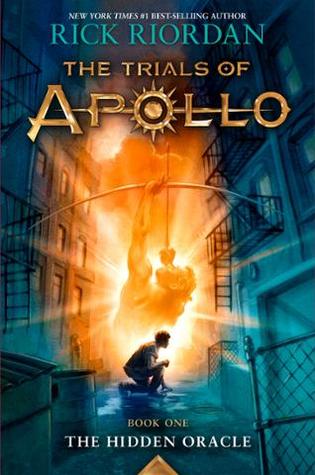 Published on:
May 3, 2016
Published by: Disney-Hyperion
Genre(s):
Fantasy, Mythology, YA, Middle Grade
Goodreads synopsis:
How do you punish an immortal?
By making him human.
After a
ngering his father Zeus, the god Apollo is cast down from Olympus. Weak and disorientated, he lands in New York City as a regular teenage boy. Now, without his godly powers, the four-thousand-year-old deity must learn to survive in the modern world until he can somehow find a way to regain Zeus's favour.
But Apollo has many enemies - gods, monsters and mortals who would love to see the former Olympian permanently destroyed. Apollo needs help, and he can think of only one place to go . . . an enclave of modern demigods known as Camp Half-Blood.
I've finally read The Hidden Oracle! Oh my gosh, guys! This book totally lives up to the hype. Rick Riordan has done it once again! The Hidden Oracle follows the Greek god Apollo after he's been cast down to Earth by his father Zeus after the debacle following Blood of Olympus. Because Apollo has been cast down before, he knows that he must find a demigod to pledge his service to. He finds Meg -- a rather unorthodox demigod-- and a bunch of drama ensues and the Trials of Apollo begin. I know that isn't a very great synopsis, but I figured I should include another one.
I loved this book! This was such a fantastic addition to Riordan's world. This did indeed feature some of the old gang. Many of our beloved characters made cameos in this novel, but it was all Apollo. Apollo was such a sassy and hilarious individual. His humor and the way he carried himself was "slap your knee, ugly snort laugh" funny. There were many occasions where I would scare whoever I was with my awkward and random spurts of laughter. At first, Apollo refused to accept that he was no immortal, and he just threw a hissy fit when he didn't meet his usual godly standards. He was even more appalled when Meg told him to calm down because he wasn't ugly, he was just "average". That freaked him out even more. When I read that bit I was cracking up. I loved the way he communicated with the demigods and those who he used to consider his underlings. There was a fantastic character arc towards the end of the novel which was fantastic to read.
One of the first things that I noticed when I first started the book, were the lovely haikus in the beginning of the chapters (Chapter 15's was my favorite). It added a little something to Apollo's character that made the book even greater.
I really loved Meg's character. She was so dynamic and not like any other character that I have read. Apollo is another force to be reckoned with when it comes to his drama fits. She didn't take any crap from him and I love her for it. She also teased anyone that she could. I love the little Peaches guy too. I loved his loyalty, and I can't wait to see how Meg's powers are expanded upon. We are just getting into her story when the book ends, so I can't wait to see what happens. I wonder if Uncle Rick will do a dual POV sequel or something...
I really enjoyed the narration style of this book. That may sound odd, but it was narrated in a way that it was like Apollo was speaking directly to the readers. It was like he knew he was in a book. He was still conscientiously in the book if you know what I mean, but when he was thinking or describing something, it was like he was speaking to the reader. I don't think I've ever encountered a writing style like that. It was so amazing to read!
I loved that Rick Riordan didn't make a huge fuss about Apollo's sexuality. Apollo, although very spoiled and entitled, has no qualms when it comes to "discovering himself". He knows he is bisexual and knows that he's loved a boy and a girl. It wasn't dramatic or exaggerated, he knew what he liked. I just really liked how Rick Riordan dealt with that issue because it isn't usually touched upon in MG or YA. I also loved how supportive he was of Will & Nico...Solangelo is one of my guilty pleasure OTPs. They are precious beans who must be cherished.
I also really liked how Rick dealt with the heavy topic of abuse. This topic is really difficult to explain to a younger audience, and I just really like how he did it towards the end of the book.
Not only did Rick add some new characters, but he had older campers featured as well. It was really nice to know what happened to some of the supporting characters and main characters from the previous books. While reading, I felt like I got to go

to Camp Halfblood with Apollo & Meg which was really nice. Our favorite son of Poseidon made a cameo in this book! I loved his attitude in The Hidden Oracle. He and Annabeth are working to go to college in the fall and Percy is doing everything he can to stay out of trouble and go with Annabeth in the fall. Annabeth, however, does not make an appearance in the book...because...she is in The Sword of Summer! So, basically, The Hidden Oracle & The Sword of Summer take place at the same time! RICK WHAT ARE YOU DOING TO US?!!?
I mean it tied up some loose ends from the Blood of Olympus, but the end of The Hidden Oracle was just cruel! How could he do that to us! The way Rick wrote the end was somewhat satisfying in a way that he would answer questions from the beginning of the book, but then he would just keep piling up more questions that need to be answered in the next book...
My Other Riordan Reviews:
I plan on doing more reviews soon. I want to reread Rick Riordan's books in the next few months and do a full month or Riordan. I may do a full month of Riordan in December. Comment d

own below if you'd like that!
I hope you enjoyed this review! I highly recommend this book. I do recommend that you read the other Percy Jackson books before you read this, though. I recommend that you read them in this order:
I have yet to finish The Kane Chronicles (Egyptian mythology), but I plan on reading them very soon. I haven't read the third and final book, but I plan on just re-reading them when I get to them.
The series on Goodreads: The Camp Half-Blood Chronicles doesn't include the Magnus Chase books, but I feel like it adds a little more if you at least read the first book before you read the first book in the Apollo series. :D
Favorite Character: Apollo
Favorite Cameo: Solangelo (Will & Nico)