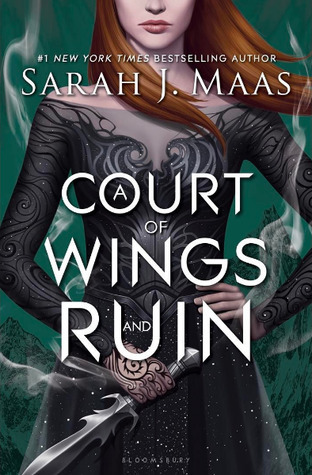 Published on:
May 2, 2017
Genre(s):
Fantasy, Romance, New Adult, Young Adult, High Fantasy
Source:
Hardback - pre-ordered
Age Rating:
17+ sexual content and violence
Goodreads synopsis:
A nightmare, I'd told Tamlin. I was the nightmare.
Feyre has returned to the Spring Court, determined to gather information on Tamlin's maneuverings and the invading king threatening to bring Prythian to its knees. But to do so she must play a deadly game of deceit—and one slip may spell doom not only for Feyre, but for her world as well. As war bears down upon them all, Feyre must decide who to trust amongst the dazzling and lethal High Lords—and hunt for allies in unexpected places.
It's been over a month since I've read this book and I'm still not, over how great it was. Maas really knows how to write a kick ass book. I'm still trying to figure out how to write this without spoilers as I write this. My notes are just full of fangirl-y blathering and it's quite evident that this review could turn out the same way. That's how A Court of Mist and Fury turned out; it should be tradition that my ACOTAR reviews are just trash. That's not a good idea, so let's just try to get through this shall we?
This book was just fantastic. Maas has successfully outdone herself. Granted, A Court of Wings and Ruin was not as great as A Court of Mist and Fury, but it comes close. This is not because of a lack of quality. ACOWAR is just a different kind of book. Unlike the character-driven ACOMAF, ACOWAR is very plot driven because of the impending war. The focus of the book was not on building the characters more, rather they were expanded upon and helped drive the story. ACOMAF helped build the world and helped lay a structure of the characters and who they are and why they're important. Without the build up from ACOMAF, ACOWAR would not have the effect that it does. ACOWAR is a war book. It is bloodthirsty, it is heavy, and it is dark. You will not come out of this book completely happy. You will, however, come out satisfied and hungry for more.
"what we think to be our greatest weakness can sometimes be our biggest strength. And… the most unlikely person can alter the course of history."
This book was everything that I hoped it would be. The continuation of Feyre's story was so wonderfully done. Maas is truly a master. Her writing style is so fluid, the way she writes is so mysterious, and I never know what to expect next. I was constantly worried for my favorite characters' lives and I literally put my life on hold on multiple occasions to read this book. I felt so many things while reading this book. I laughed and cried the most, but I also got raging mad during a few moments of the book. I was absolutely terrified while reading this book. I was constantly shaken out of my core by every twist and turn that Sarah threw at us.
I would usually knock out a 700-page book in a couple days or even just spend a day reading it, but that is definitely not what I did for this book. I wanted my first read to be special. So, I spent three weeks on it. I know. 3 weeks is much too long...for me anyway. After ACOWAR, nothing could please me. Hence, the trail of 2, 3, & 4 star books towards the end of May and early June. I'm still looking for a series that can live up to my love for this series, so comment below your favorite books and I'll give them a read.
Okay, let's actually get back to the review...
The characters in this book, as throughout the previous two books, were fantastically written. Maas managed to expand and improve upon the characters from ACOTAR and ACOMAF, BUT then she added more characters and delved into the other seasonal and lunar courts! Now I have more characters that I consider my children. I really loved that each character, like everyone else in the world, had some kind of issue that they were resolving or coping with in some way. This book shows that people are not defined by the mistakes or decisions that they made in the past.
I'm just going to put a bullet point list on my thoughts on the characters because I can't cohesively just make small paragraphs about the characters without spoiling something.
IF YOU DON'T WANT TO KNOW SPECIFIC DETAILS ABOUT THE BOOK OR DON'T WANT TO BE SPOILED FOR ANYTHING, I RECOMMEND YOU DON'T READ THIS LIST.
I'm serious. There are spoilers about who dies and doesn't die in this list. Just don't read it if you read the book!
· The

Weaver and the Bone Carver are even cooler now! They and Amren need novellas!
· Maas introduced more High Lords and I cannot believe that she was holding out so long on us! WHAT AMAZING CHARACTERS! I need more about every single High Lord. I want novellas or full-length books about each court. I want back-story, I want more about the original war, and I want new relationships to blossom so that Feyre has more connections to the people who saved her.
· WE

GOT MORE ABOUT HOW RHYSAND HELPS EVERYONE AND HE'S SO BEAUTIFUL AND SELFLESS AND BRAVE AND I JUST WANT HIM TO BE APPRECIATED FOR EVERYTHING HE'S DONE BECAUSE HE IS SO WONDERFUL AND I CAN'T GET ENOUGH OF HIM. HE AND FEYRE ARE THE DICTIONARY DEFINITION OF RELATIONSHIP GOALS!!!

We got sooo much about Azriel!!! I just love him so much and his personality is actually shown in this book. He's actually so sweet and snarky. I need more Azriel.

Cassian! Oh, goodness he and Nesta need to get together! I need them together. They're the only ones who could handle each other. Their bickering was adorable and I need a book with them.

THERE IS SO MUCH MORE TO MOR AND AAAAAH I WAS SO SHOOK THROUGHOUT THIS BOOK! SHE IS SUCH A BADASS AND SHE DESERVES EVERY HAPPINESS!

Amren the crazy bitch made me laugh and cry whenever she was in focus. Holy shit this butthole is so great. She's a big 'ole softy! SHE NEEDS TO PURSUE LOVE, GUYS!

Ianthe needs to just die already!

Elain literally broke my heart for a good chunk of the book. I hated seeing her the way she was. I'm so glad that she came out of her shell a bit. I want a huge book about her healing. I love how close she got to Azriel and I'm so glad that Az was able to help her. I'm still rooting for Lucien, but I hope that she and Az are great friends.

Nesta is such a strong character, but she is so bitter and needs therapy. I have a love-hate relationship with Nesta just because of the way she treated Feyre. I can't get past the crap she put her through. I hope for more redemption in ACOTAR #4.

Poor Lucien is just thrown under the bus 24/7! He's stuck with Tamlin, gets brain warped and confused in ACOTAR & ACOMAF, his mate is traumatized and doesn't want to speak to him, and then the selfless butthole goes off and helps save the day! I just love Lucien so much and he doesn't get enough credit when credit is due.

Tamlin: I don't hate him now, but I don't like him. I need more of an arc from him...I know he loves Feyre immensely, but he still needs to heal...he's traumatized too and he didn't handle it well, but he still kept on handling incorrectly for the longest time. I hope he gets help.

Amren the crazy witch made me laugh and cry whenever she was in focus. Holy crap this chick is so great. She's such a softy deep down, but aaaah she just needs to embrace herself and pursue that dude!!!
One thing that I will mention in the non-spoiler section [you're there again] is that Rhysand is by far one of the most important male characters that could be written right now. He's such a feminist and he's so supportive of Feyre and they just compliment each other so well. This probably isn't new news for those who have read ACOTAR & ACOMAF, but in ACOWAR it's so noticeable and great. I just love him so much.
"...
the male who had always presented me with a choice not as a gift, but as my own gods-given right."
I had one issue with this book. It's minor and kind of random, but the word usage in this book was just really cringe-y at times. The word "mate" was used much too often and it just got so annoying. There were also throats bobbing everywhere and there was so much heavy breathing. I'm surprised that people weren't passing out from it. I just think that Maas was too heavy handed with some phrases. It just got repetitive and annoying. However, this doesn't take away from how fantastic the story is. I can't wait for ACOTAR #4.
This book was everything I could have hoped for. I loved the whole plot, the characters, the visits from old characters, the expansion on Prythian, the developed personalities of Nesta and Elain, I loved Lucien's part of the book, the expansion on Mor, Amren, Cassian, and Azriel...I obviously loved Rhysand and Feyre. They are my children! I loved reading and seeing the courts, I loved the LOTR and Snow White vibes; I just loved this book! It was fantastic! I need more!
My Reviews for Other Maas Books:
@LivTheBookNerd on Books Amino