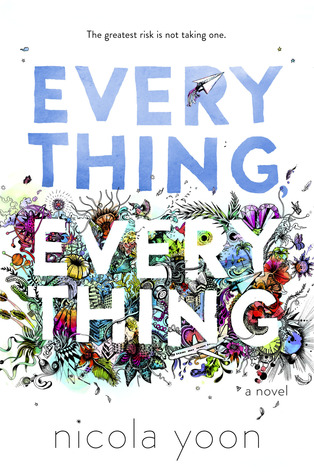 Page Count: 307
Published on: September 1, 2015
Published by: Delacorte Books For Young Readers
Genre(s):
Contemporary, YA, Romance, Realistic Fiction
Source: Paperback -personally purchased
Age Rating: Young Adult
My Rating: 4 stars
Goodreads synopsis:
My disease is as rare as it is famous. Basically, I'm allergic to the world. I don't leave my house, have not left my house in seventeen years. The only people I ever see are my mom and my nurse, Carla.
But then one day, a moving truck arrives next door. I look out my window, and I see him. He's tall, lean and wearing all black—black T-shirt, black jeans, black sneakers, and a black knit cap that covers his hair completely. He catches me looking and stares at me. I stare right back. His name is Olly.
Maybe we can't predict the future, but we can predict some things. For example, I am certainly going to fall in love with Olly. It's almost certainly going to be a disaster.
I am so late in the Everything Everything bandwagon, but I'm so glad that I read this finally. Everything Everything it was super cute and I thought it was a pretty good contemporary novel, but there were still many aspects that I didn't like at all. This book has been raved about for the past couple years, so I was expecting the book that was raved about, but it didn't live up to the hype. This book wasn't awful! It was really entertaining and addicting to read. I really enjoyed the characters and the premise was very interesting and I really wanted to see where the story would go. However, there was one aspect to the story that wasn't executed very well.
Maddie is basically allergic to the world, so she doesn't get to leave her house. One day, Maddie's world is turned upside when her new neighbor tries to befriend her. Maddie is instantly intrigued by her new friend. They begin to create a friendship online and Maddie begins to fall for him. What she doesn't realize is that their attraction could change her life forever.
This book overall was really entertaining. I really loved Maddie's character. Maddie is biracial --African American/Japanese -- which was really great to read about. I've rarely read any kind of book lately with a biracial main character or even many side characters. I was really excited to read about her story. Maddie is such a sweet character. She was so sweet and I loved her relationship with Carla, her mother, and Olly. Even with her condition, Maddie was so passionate about the things she loved and she is a beautiful dreamer. I loved her passion for her projects in school. Maddie really does grow as the book progresses. Her character arc is really tragically beautiful. I actually want a sequel or at least a novella.
I really didn't like that there was such a large focus on Maddie and Olly's relationship. I didn't like that the book made it seem like Maddie's drive to actually live life was caused by her attraction to Olly. I liked that she took control of her life, but I really didn't like the way she did it. I felt like she put herself in too much danger for *love*. I wasn't buying it. Her desire to be free and normal girl was just overshadowed by the wrong things.
I actually really liked Olly's character and I really liked thier relationship. I thought they complimented each other really nicely and I thought they were great together. I thought they were both really quirky and adorable and sweet. Their interactions made me feel all emotions. I literally laughed and cried a bit. They were so sweet. Olly's character was so interesting and I really wish his story had been touched on a bit more. I would love to read more about him before he met Maddie.
Overall, Everything Everything was really entertaining. I'll definitely have to pick up more by Nicola Yoon. Her writing style is so beautiful and addicting. I recommend this book to just about everyone.
My Favorite Contemporaries:
Eleanor & Park
by Rainbow Rowell
I hope you enjoyed this review!
Happy reading!
Olivia
~LivTheBookNerd~
@LivTheBookNerd on Books Amino