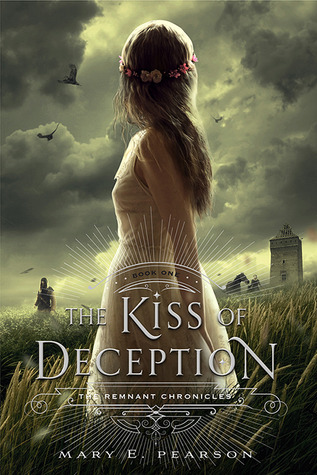 Page Count:
492
Published on:

July 8, 2014
Published by: Henry Holt/Square Fish
Genre(s): Fantasy, YA, Romance, High Fantasy, Adventure, Historical Fiction (not), Science Fiction
Source: Hardback
Goodreads synopsis:
A princess must find her place in a reborn world.
She flees on her wedding day.
She steals ancient documents from the Chancellor's secret collection.
She is pursued by bounty hunters sent by her own father.
She is Princess Lia, seventeen, First Daughter of the House of Morrighan.
The Kingdom of Morrighan is steeped in tradition and the stories of a bygone world, but some traditions Lia can't abide. Like having to marry someone she's never met to secure a political alliance.
Fed up and ready for a new life, Lia flees to a distant village on the morning of her wedding. She settles in among the common folk, intrigued when two mysterious and handsome strangers arrive—and unaware that one is the jilted prince and the other an assassin sent to kill her. Deceptions swirl and Lia finds herself on the brink of unlocking perilous secrets—secrets that may unravel her world—even as she feels herself falling in love.
I've been meaning to read The Kiss of Deception for over a year now, and I've finally gotten to it! KoD has been on my Goodreads TBR for over a year, and when my sister bought it and put it on her TBR she told me I wasn't allowed to read it until she did...well she read part of it, got confused, and put it back on her TBR to try again after she read something else. She still hasn't read it, but I was in the mood to read it so I ended up picking it up while she was out and got 40 pages in so she couldn't take it away. In the end, I got to keep reading her book...
excuse the meme
Everyone on Goodreads and BookTube have been raving about this book for the past year and a half, so when I had high expectations for this book...maybe too high expectations. I psyched myself out and because of that, I probably didn't like this book as much as I could have if I hadn't hyped it up. I think I got lost in my hype.
I really loved the whole plot concept of this book. I think the plot was what completely drew me in. It's not that a plot doesn't draw me in normally, but once I got into the book, I realized that Mary E. Pearson was going in a totally different direction then I thought it would have gone. I really loved the characters that she developed throughout the book. I really loved Lia's character throughout the book. She was such a badass and so strong. I loved that she wasn't afraid to stand up for what she believed in. She wasn't afraid to stand up for herself, and she wouldn't let anyone step on her for it. I also really enjoyed her whole attitude throughout the book. I loved her newer attitude at the end of the book. I can't go into detail...because spoilers... but if you'd like to discuss this book you can contact me on

Twitter

! I also really liked the guy characters...I mean I couldn't figure out which was which until the near end, but once you figure out who they are it's much easier. Each of their characters developed really nicely throughout this book and I can't wait to find out what happens in the sequel.
I wouldn't classify this book in the high fantasy genre (hence the "not" above). It is a fantasy novel, but from what I read I wouldn't consider it high fantasy...yet. By the time I got half-way through the book, I got kind of bored. Either I was losing steam, or I just wasn't enjoying it. I would say that the beginning of the book was 5 stars, the middle 4, and the end was 5 stars...if you average that out it's a 4.6 star rating.
Overall, this book was pretty good and I'll definitely be reading the sequels. Mary E. Pearson's writing is nicely done, and I love her work.