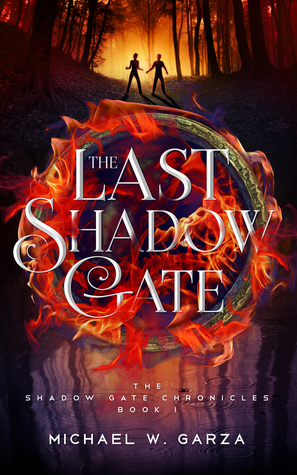 Page Count:
262
Published on:
March 3rd 2017
Published by: NeerHaven Press Genre(s): Fantasy Source: Print: Paperback via Author Age Rating:
My Rating: NO RATING
Goodreads synopsis:
Summer vacation was never supposed to be like this.
It was bad enough Naomi had to be shipped off to her dad's home for the summer and deal with her half-brother Gavin, but when the siblings are forced to spend their break with their great-grandmother in upstate New York, everything changes. An investigation into the strange disappearance of their great-grandfather forces them to retrace his footsteps. They discover a gateway between worlds and encounter extraordinary creatures in a land where the people are desperate to escape the coming of a shade lord. To survive their adventure, Naomi and Gavin must settle their differences and find the elusive shadow gate that will take them home again.
I won't be rating this, as I just care to. This is just one of the books that I don't think I need to rate. There are some books that I DNF that I absolutely hate, but there are some that I know aren't for me, so why rate it? The Last Shadow Gate is like the latter.
I got about 55 pages into this book (20-ish %) and I just couldn't get into it. I didn't enjoy the writing style. The children's narration style didn't fit their ages, their personality, and it just wasn't how children and young adults speak. The way Garza wrote these characters was kind of infuriating. I didn't enjoy them at all. I found the characters that I encountered to be very boring and bland. They were just so obvious and the relationships were just very underdeveloped from the beginning. The sister-brother dynamic was kind of annoying. There was no explanation for their rivalry and nastiness and the reader was just kind of expected to understand why they were constantly picking on each other. I have siblings, and we're rude to each other sometimes, but we have reasons. There didn't seem to be a reason for these to...and if there was, I missed it. You'd also think that I'd like at least one character within the first fifty-ish pages, but I just found myself forcing myself to read the book. It took me at least 2 hours to get into this book. I usually give iffy books about 40 or 50 pages before I DNF them, but I found myself just forcing myself to get to that area so I could stop. It wasn't fun.
Overall, I was just very bored and uninterested from the first page. I found myself rewording sentences and basically asking the questions my creative writing professor asks me when I'm writing. It just wasn't a writing style that enjoyed. I couldn't connect with the characters, which is a very important aspect to me, and I just wasn't enjoying myself. I wanted to like this book, but I couldn't make myself read it if I didn't enjoy it.
At this time, I'm not too interested in reading this book, but I might pick it back up once I'm definitely in the mood for it. There are so many interesting aspects to the plot that I would love to explore, but until I'm in the mood, I'm not going to pick it up.
I'm sure there is an audience for this book, but I'm not a part of it. If this book sounds interesting to you, then I highly encourage you to do so. It wasn't because I absolutely hated Garza's book, it just wasn't for me. So if this sounds interesting to you, then give it a go!
Happy reading!
Olivia
~LivTheBookNerd~