I had already decided that for 2019 I would splurge and reread more books -- especially my favorite series. The past six months have been really rough. I have to be honest. Going back to some of my favorite series has been so therapeutic. Visiting The Lunar Chronicles, especially, has been like visiting a good friend. I absolutely adore this series. It has one of the best cast of characters and being with them again is so nice.
Here are my thoughts when it comes to rereading the series!
First things first, I decided to pick these up via audio and I definitely do not regret it. I love these audiobooks! Sometimes I'll be a little iffy about the audio and pick the book up physically, but I've only picked up the physical books to see if I've hit the halfway mark and check out name spellings.
Cinder (#1)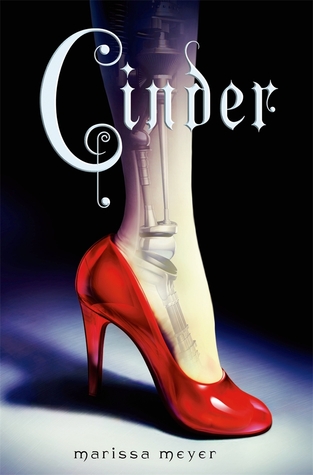 This is the third time that I have read Cinder. Back when it first came out in 2012, I quickly picked it up from the library and loved it. I gave it five stars. Three years later, in 2015, I picked it up again and gave it 5 stars. This year is no different and I gave it 5 stars. I originally picked the audiobook up on a whim and I definitely do not regret it. I absolutely adore every part of this book. Marissa Meyer's method of creating characters is so much fun and I love how she develops them throughout the book. She's such a fantastic storyteller. You can just tell that she put so much work into the world building and the character building. She's so wonderful.
Scarlet (#2)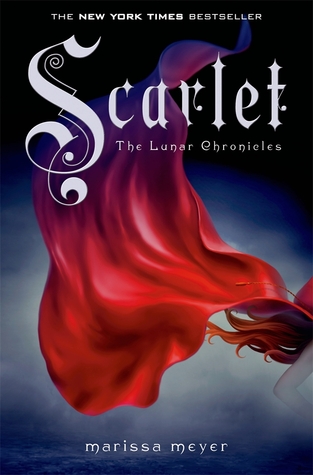 I've also read this 3 times:
I honestly do not remember rereading this book in 2015 and giving it 4 stars. I vaguely remember rereading the series to continue the series, but I don't remember docking the book a star. 2015-me had the right idea, however. Scarlet did not stand the test of time. The characters, Scarlet and Wolf, were just not as compelling as Kai and Cinder. They were dynamic and really well fleshed out, but their behaviors are just kind of annoying sometimes.
Scarlet has this persona that she's really tough and brave, but she was just constantly screaming, sulking, and crying. Granted, she goes through a lot of crap that no one should have to go through, but sometimes it was just so repetitively tragic. I wish she had been more complex than what she portrayed. Also, the voice that the audiobook narrator gave her is annoying as hell. Fake French accents just grate on my nerves. It wasn't fun.
Wolf, however, I understand. I think I enjoy him more than I have in the past. I think this reread really cemented the demented-ness of the mutation experiments that occurred on Luna. It's really messed up! I don't think it had fully sunk in how terrible Luna's actions were until now. Let's chalk that up to the lack of development and understanding in 15/17-year-old Olivia.
Also! Carswell Thorn is amazing and I adore him. He's so flawed, but I can't help but root for him. He's just so fun.
Cress (#3)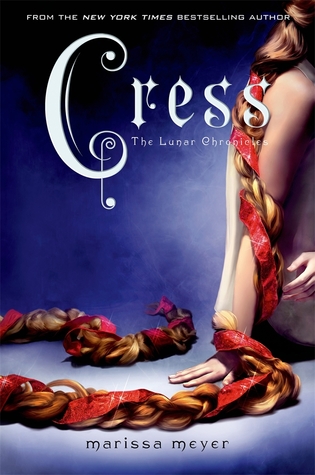 Cress never disappoints. I absolutely adore the character Cress and I especially love the interactions between Cress and Thorn. I love their romance and I love how they help each other grow as people. They're precious beans and need to be protected.
I loved how there were so many perspectives throughout the book. It really added the extra depth and dark vibes that the series is so well known for. Each character goes through so much, but they always grow into themselves and learn from their mistakes. I love these characters.
Wolf and Jacin really annoyed me in this addition, however. Wolf was being a mopey asshole and was putting the team in jeopardy. He just wasn't acting like himself and it was annoying. Jacin is just a grump, but I appreciate that he doesn't change himself for others. He's a bit dense, but he's fun.
This book is so action packed and fast paced. I really didn't want to stop listening to it. There's a reason that it's one of my favorites of the series. (However, we will see which one is my new favorite after I finish the series.)
Fairest (#3.5)
This was actually my first read of Fairest!
Back when this first came out, lots of people were telling me to just skip it because it didn't really add to the story....WHAT WERE THEY THINKING? I love it when authors include additions that develop other characters -- especially the villains! This was so good!
This didn't make me sympathize with Levana's cause, but I definitely understand her more now. I hate that she had to go through what she did, but she could have done something to make her life better and make the lives of others better because of what she experienced. Instead, she consistently made terrible choices, didn't learn from them, and then made even worse choices.
She's so self-centered and self-absorbed. She's a narcissistic asshole and she's straight up evil. Her character is so frustrating and it just made me feel sad for her because she didn't want to change and she didn't want to make an effort to be kind.
You definitely should read this if you're going to read the series.
Winter (#4)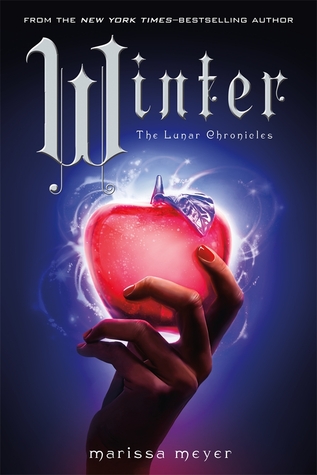 This was the longest audiobook that I've ever read, but it was also so freaking fun. By the end of it, I was making the most ungodly noises as things were happening and I managed to wake up my dog as he sat in my lap while I listened. This book was just a fantastic roller coaster of emotion and character development. I am so freaking happy that I reread this series.
Of all of the Lunar Chronicles books that I've read, this was the book that I had read only one time. Because of that, I hardly remembered it. This was as close to first-read do-over that I could get and I'm so glad.
I love these characters and I love how the series ended. I'm eager to see what I think of Stars Above.
*written as soon as I finished this book June 25*
Stars Above (#0.5, 0.6, 3.1, 4.5)
Rating: 4 stars
The Little Android: This was so sweet. I was quite confused at first because I thought it was an Iko story, but I really love how Meyer tied in the story of the Little Mermaid. It was tragic, but still hopeful and heartwarming. I really liked how we got to get a glimpse into the world of the Lunar Chronicles before Cinder was even introduced.
Glitches: Oh my goodness. This was so sad, but so cute. I loved seeing how Cinder's life began after the surgeries. It was so fascinating to see the family dynamic of the Linh family before the plague struck.
The Queen's Army: Wow. This was one of my favorites. It was so fascinating to see who Wolf was before his transformation and after he was transformed. It's sick how Levana treated her people. This was just so good.
Carswell's Guide to Being Lucky: Oh my goodness. This was really fun too. It's so interesting to get the chance to see such a pivotal moment in Captain's life. I love him still.
The Keeper: Scarlet is probably one of my least favorite characters, but reading this novella gives me a new perspective to why she is like she is. I like her a little more, but I still don't like her as much as I like the other characters.
After Sunshine Passes By: Oh. My. Gosh. I love Cress. A precious bean who doesn't deserve any bad in her life. A literal sunshine.
The Princess and the Guard: Winter is such a strong character, but she's so misunderstood by the end of the book. Winter goes through so much, but she still remains so wholesome and good. She deserves the world. It was also really nice to see Jacin before he became the hard guard- dude that he is. I loved his interactions and adoration for Winter. A wholesome duo.
The Mechanic
: This was honestly probably my least favorite of the novellas. I understand why so many enjoy this novella - Kai is beautiful and lovely and deserves the world - but I wish that this had been a retelling from his perspective and a different scene. It just didn't feel so different from the actual scene.
Something Old, Something New
: This was my favorite by far. AAAAH it almost made me cry. I am so happy with this ending. I wish that there was another wedding novella to follow this one, but I'm so happy with this novella! I want more!
Favorite of the series: Cinder or Winter
Favorite romantic pairing: either Cress and Thorne or Cinder and Kai
Favorite character: Cinder or Cress
Favorite non-romantic relationship: Thorne and Iko
What's your favorite of the series? Let's discuss in the comments!
Happy reading!
Olivia
~ Liv the Book Nerd ~