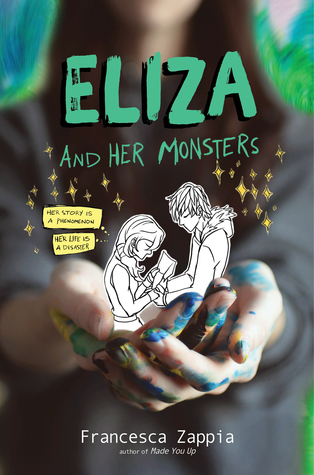 Page Count: 385
Published on: May 30, 2017
Published by: HarperCollins
Genre(s):
Contemporary, YA, Romance, Realistic Fiction
Source: Hardback -personally purchased
Age Rating: Young Adult
My Rating: 5 stars
Goodreads synopsis:
Her story is a phenomenon. Her life is a disaster.
In the real world, Eliza Mirk is shy, weird, and friendless. Online, she's LadyConstellation, the anonymous creator of the wildly popular webcomic
Monstrous Sea
. Eliza can't imagine enjoying the real world as much as she loves the online one, and she has no desire to try.
Then Wallace Warland,
Monstrous Sea
's biggest fanfiction writer, transfers to her school. Wallace thinks Eliza is just another fan, and as he draws her out of her shell, she begins to wonder if a life offline might be worthwhile.
But when Eliza's secret is accidentally shared with the world, everything she's built—her story, her relationship with Wallace, and even her sanity—begins to fall apart.
I am so excited to share my thoughts about this book with you all. This book is most likely going to be one of my top 17 favorite books of 2017...yeah, it was that good. This book is like one giant letter to the fandom world and I am so in love with it. This book was basically perfect and I read it in almost one sitting. Okay you probably don't care about my reading habits but I want to explain the "basically one sitting" bit. So, I started this book one day when I worked a long shift at work. I work in a library, so I get to read quite a bit as a student. So basically I read the first 350 pages while at work and then I was left with like 30-40ish pages when I got home....but when I got home I was watching movies with the boyfriend so I fell asleep before I could read the last bits. As soon as I woke up the next morning I picked up the book and basically devoured the last few pages. This book was fantastic. I don't really buy books for full price, but I'm so glad that I decided to buy this one. This book was so beautifully written and Francesca Zappia has gained a new fan. I'm so excited to pick up more of her stuff...aka her other published book Made You Up. If you expect a calm and gush-less review then you've come to the wrong blog. Buckle up guys, because this is going to be a ramble-y and fangirl-y review.
Eliza & Her Monsters follows the introverted Eliza. Eliza is an outcast in her town and school. She's quiet, she doesn't speak much, and nobody really understands her. What everyone doesn't know is that Eliza is the writer and illustrator behind the immensely popular and internet famous web comic Monstrous Sea. Eliza loves the online fandom community and her best friends are actually online. When a new guy transfers to her school, Eliza's world is turned upside down as she and Wallace become closer.
Okay, the synopsis on Goodreads and in the dust jacket are wayyy too spoiler-y and I feel like E&HM is one of those books where you should just go into it half-blind. When I first picked this book up, I liked Eliza's character right away. I related to her on a creepy level. If she were a real person that I got to meet, I would want to be her best friend. She is such a dynamic and interesting character. Her whole story was so relatable and I just loved every moment of this book. The characters were so real and (again) dynamic!!! I'm not sure how to really explain how much I love these characters. Wallace, the main guy character is such a puddin'. He's so sweet and his backstory is so tragically interesting. His character development was so great to witness because of everything he went through in his past. I really did not expect his backstory to be what it was. He and Eliza were so freaking cute. They were true friends and their friendship and relationships developed so naturally. I just adored everything about their relationship. It wasn't the classic/cliche convenient relationships that frequent YA contemporary/realistic fiction IT WAS SO REAL AND WONDERFUL AND THEIR ATTRACTION TOWARDS EACH OTHER REMINDED ME OF MY RELATIONSHIP AND I JUST LOVE IT SO MUCH. Okay I need to calm down. Anyway, excuse my gushing because I just cannot handle how much this book means to me. The characters are so wonderful! They aren't perfect people. They are normal and have their own issues and it was just so great to see a cast of characters who actually had substance and were natural and real.
Okay let's talk about the online vs. IRL (in real life) relationships. I just loved Zappia's inclusion of online friends. Most people do not realize the importance of friendships online. I'm not going to spoil anything, but even Wallace and Eliza's relationship was mainly developed online. You'll have to read the book to understand, but it is GREAT!
The whole format of this story was fantastic. Zappia included bits of the Monstrous Sea comic in the book and I just adored those bits. I desperately need a full length comic. I need Wallace's fanfiction too. I just need more of these characters. They are just so great! I know I sound like a broken record, but they are just such fantastic characters!!! Eliza is also a huge fan of this book series called the Children of Hypnos. The book series was actually what inspired Eliza to start her web comic BUT(!!!) The Children of Hypnos is actually an actual story that Zappia has been writing for a long time on Wattpad and Tumblr! Uh hello! I need to read it ASAP and someone needs to publish it!
Okay, I'm not sure how to write the rest of my minor thoughts without saying the book is great every other sentence so I'm just going to put my last few thoughts down in bullet format.
I need the Children of Hypnos book(s?) in a print format. I want to love and to hold them.

I need a Monstrous Sea web-comic - print format or online. I just want to have an Eliza-inspired fandom!!!!

The emphasis on mental health and self love is AMAZING!

The emphasis on anxiety and Eliza's health made me SO happy

The emphasis on being an introvert and how one feels when they don't want to go out was so great to read about. Specifically this quote spoke to me:
"I'm not normally one to take advice from my fictional characters, but there comes a point in every girl's life where she reaches a crossroads: a night alone with her sweatpants and her favorite television show, or a party with real, live, breathing people.

"
Eliza's inner turmoil and writer's block was so nice to read about. Writing is so hard and it's not really touched on much when reading about a young writer in YA.
Author's Note From Goodreads:
I didn't do this for
Made You Up
but I'm doing it here because maybe someone will find the explanation helpful.
Eliza and Her Monsters
is a pretty personal story for me. I wrote it in the hopes that it could help other very introverted and anxious creative types and those who feel the keen double edge of fandom and life online.
There are two other stories inside this one. The first is
Monstrous Sea
. That one's obvious.
Monstrous Sea
is my oldest story and, full disclosure, my favorite; I gave it to Eliza because it made her feelings about it real. Unfortunately, only the very tip of the
Monstrous Sea
iceberg is visible in this book, and it's not available to read anywhere. (Yet.)
The second is Eliza's favorite book series, The Children of Hypnos, which is a real thing I wrote and am currently putting up on Tumblr and Wattpad (
https://www.wattpad.com/story/9547883...
). There are new chapters every Monday and Friday @ 1pm EST, and if you like the idea of nightmare hunters, strong friendships, or creepy weird dream nonsense and ridiculous anime weapons, you should check it out.
If you have any questions, always feel welcome to ask them on my profile. :)
I apologize if this review was a bit scattered, but I just loved this book so much and I hope I inspired at least a few people to read it. I think it's going to be a really influential book to so many people.
If You Love This Book You Will Love Eliza:
Eleanor & Park

by Rainbow Rowell
Olivia
~LivTheBookNerd~
@LivTheBookNerd on Books Amino