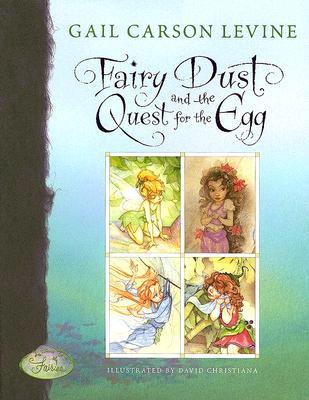 Page Count:
208
pages
Published on:
September 1st 2005
Published by:
Disney Press
Genre(s): Children's Fiction, Fantasy, Middle Grade
Where To Find It: Goodreads // Amazon
Bailey's Rating: 6/5 stars
Goodreads synopsis:
Fairy Haven is abuzz with news about its latest arrival, Prilla. It's bad enough that she has no idea what her special talent is, but some of her behavior is remarkably, well, human. Prilla is heartbroken that she does not seem to fit in. She desperately needs help from Mother Dove, the most important creature in Neverland, who created and cares for the magical egg that prevents all who live in Neverland from growing old and dying. But tragedy strikes as the island is hit by a hurricane, and the Never egg is destroyed. Mother Dove must pick three fairies to set out on a dangerous quest to repair the egg. She chooses Rani, the best water-talent fairy; Vidia, the most selfish, but fastest fast-flying-talent fairy; and, to everyone's surprise-Prilla. The three embark on a journey filled with danger, sacrifice, and adventure. The fate of Neverland-and their world as they know it-rests on their shoulders.
Hey guys!
If you've been following my blog for the past year, today marks Bailey's one-year-reviewing-anniversary on #LivTheBookNerdBlog... I can't believe it! She's been reviewing since she's was 6! So...I figured that starting this Thursday and continuing into next week, would be a week of Bailey reviews. Bailey is turning 8 on Friday, April 15th and she's been dying to write some reviews for the blog...there are probably 6 or 7 books that she wants to review, so I decided (just now) to have a week of Beetle reviews...They will be all children's fiction, and we'd recommend the books to all kids ages 6-10.
Anyway, here is Bailey's first ever review for #AWeekOfBaileyReviews!
Q: What is *insert title* about? Can you summarize it a bit? A: It's about a dove named mother dove who has a broken egg. it didn't hatch because of a tornado. Vidia, Tink, Raini, and Prilla had to go to three places to get stuff to fix the egg...I think they're supposed to get a golden eagle's feather (fairies are afraid of birds). Q: What would you rate this book? Why? A: 6/5 stars, because it was just my favorite book that I've ever read. (It was so good that she was having a hard time explaining without spoilers) Q: What did you like about this book? What did you dislike? A: I liked it because it was just plain amazing. I couldn't put it down. I had to hide from dad so he wouldn't peek over my shoulder. I didn't not like anything. Q: Are you going to continue with the series? A: Yes, if you have them... Q: Do you have anything else to say to the people reading this? A: I thought the artistic drawings were done really well. Q: Did you like the art style? A: Yes! Q: anything else? A: Nope I just want to finish this book (She's just started Thumbelina: Tiny Runaway Bride)
I hope you all enjoyed Bailey's review of this book. She and I have been working on reviewing a bunch of the books that she's read, and we've reviewed maybe 7 or 8 books so far. Because there are so many books that she's been wanting to review, I decided to have a whole week dedicated to her. I mean she's turning 8 today, and she's been reviewing for me for a year and 4 days now...she's been doing such a great job...I'm so proud of her. Anyway I hope you enjoy the week of Bailey reviews!
Happy reading!
Olivia & Bailey
~LivTheBookNerd~
Twitter
//
Instagram
//
Tumblr
//
Goodreads
//
YouTube
//
Bloglovin