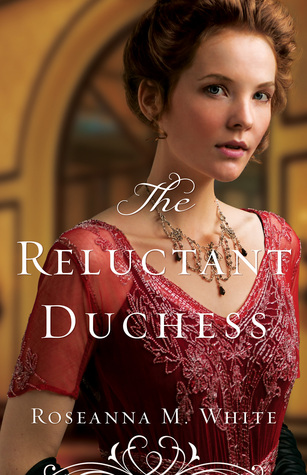 Page Count:
389
Expected Published:
April 5, 2016
Published by: Bethany House Publishing
Genre(s): Historical Fiction, Adult, Romance, Christian Fiction
Source: Paperback: PROVIDED BY PUBLISHER
Age Rating: PG-15

Where To Find It: Goodreads

//

Amazon
Goodreads synopsis:
Lady Rowena Kinnaird may be the heiress to a Highland earldom, but she has never felt good enough—not for her father, not for the man she thought she'd marry, not for God. But after a shocking attack, she's willing to be forever an outcast if it means escaping Loch Morar and the men who have jeopardized her life.
Brice Myerston, the Duke of Nottingham, has suddenly found himself in possession of a rare treasure his enemies are prepared to kill for. While Brice has never been one to shy away from manor-born ladies, the last thing he needs is the distraction of his neighbor, Lady Rowena, who finds herself in a desperate situation. But when the moody Earl of Lochabar tries to trap Brice into marrying Rowena, Brice finds he's not as opposed to the idea as he expected to be.
Rowena wanted to escape the Highlands, but she's reluctant to resort to marrying a notorious flirt just to gain his English home. And when she learns that Brice is mixed up in some kind of questionable business with a stolen treasure, she 'fears she's about to end up directly in the path of everything she was trying to avoid.
Bethany House sent me this book for an honest review. This book follows a young woman named Lady Rowena who experienced a horrible attack. Rowena must escape to England with the Duke of Nottingham. The Duke of Nottingham, Brice, possesses a priceless family heirloom that a rival desperately wants, and will do anything to get. This book is full of family and social intrigue, faith-based doubt, and cute romance.
One of the main things that I really wished I hadn't missed out was the first book in the series. This is the second book in a companion series called The Ladies of the Manor series, and even though I had no idea what happened in the first book, there were quite a few hints about what had happened in it. I think that this factor alone brought down my rating because I got so confused about the characters and some of the back stories. I really wish I had read The Lost Heiress because from what I got from the hints in The Reluctant Duchess, I think it could be awesome.
I did like the characters, but I feel like I couldn't connect with them as much as I want. I feel like if I had read the first book, there would have been some cool character development. I also thought Brice was kind of unrealistic. His relationship with God seemed to be kind of fake...I mean I think that the faith he was written with was really cool, but I'm not even sure if it's believable. I am definitely not an expert on Christianity, but I do think I have a strong faith...I'm just not sure...
I also really enjoyed Rowena's character. Even though I felt kind of distanced from her, I really did like her. I mean she was really naive, but she was really sweet and she meant well. She was sheltered for most of her life, so I totally get it.
If you have the desire to read this book, I recommend that you read The Lost Heiress first. You will most likely get confused like I did, so yeah...read the first book.
If you would like to check out more of my Bethany House sponsored reviews, then here they are!
Bethany House Books That I've Reviewed:
I hope you enjoyed this review!