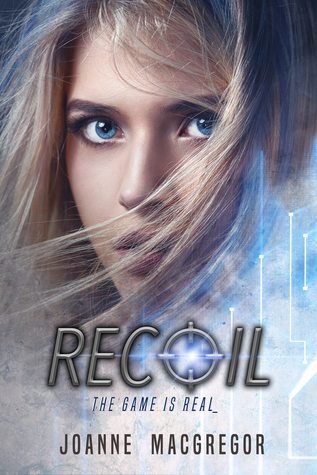 Published on:
May 2, 2016
Published by: Joanne Macgregor
Genre(s):
Science Fiction, Dystopia, YA, Romance
Source:
eBook: Provided by Author
Goodreads synopsis:
When a skilled gamer gets recruited as a sniper in the war against a terrorist-produced pandemic, she discovers there's more than one enemy and more than one war. The Game is real.

Three years after a series of terrorist attacks flooded the US with a lethal plague, society has changed radically.

Sixteen year-old Jinxy James spends her days trapped at home – immersed in virtual reality, worrying about the plague and longing for freedom. Then she wins a war simulation game and is recruited into a top-secret organisation where talented teenagers are trained to become agents in the war on terror. Eager to escape her mother's over-protectiveness and to serve her country, Jinxy enlists and becomes an expert sniper of infected mutant rats.

She's immediately drawn to Quinn O'Riley, a charming and subversive intelligence analyst who knows more about the new order of government and society than he is telling. Then a shocking revelation forces Jinxy to make an impossible decision, and she risks losing everything.

Recoil is the first book in a Young Adult dystopian romance trilogy, and makes great reading for lovers of Rick Yancey (The Fifth Wave), Suzanne Collins (Hunger Games), and Veronica Roth (Divergent).
Joanne Macgregor sent her novel, Recoil, for an honest review and when she contacted me, I was so excited to read her book. In February 2016, I read Joanne's realistic/contemporary novel Scarred and I really loved it! Her writing was so fantastic, so I was so excited to read Recoil. Unfortunately, Joanne's emails were being sent to my spam folder, so I had forgotten to check for the ebook to come (I was being swamped with emails anyway) and so when I finally checked my spam folder, I had at least 3 emails from Joanne! I felt so bad! So here's a public apology to Joanne: Sorry! Anyway, here's my review of Recoil!
Overall, I really enjoyed this book. I had a couple issues with it overall, but nothing to major that would stop it from being a 4-star book like I rated it, at least to me that is. I really loved Jinx, the main character, and I really enjoyed the world that Macgregor created. It gave me a Ready Player One-Hunger Games vibe, but in a good way! There were some typical dystopian tropes in this book, but they were worked in a way that Joanne made them her own. I really enjoyed the pace of the book, the characters she developed throughout the book, and the world that she fabricated from page one.
When reading this book, especially the first few chapters, Joanne introduced the reader to a post-apocalyptic United States that is in a constant state of fear and struggle. The citizens of the U.S. are battling with a terrorist group that has released a deadly disease that is running rampant all throughout the country. People are terrified of leaving their homes and becoming infected. They stay home and live their lives online. I thought this was a really interesting take on how the world could "end". I really think this could happen. It's not too far off form what could possibly happen. That's what's so scary about the Dystopia genre, the real-ness.
I really enjoyed the characters in this book. I could relate to Jinx for the most part, and I enjoyed her snarky, sassy, and sarcastic demeanor. She wasn't afraid to be different and she was very dedicated to what she loved. Her moral compass throughout the book was really nicely done as well. A lot of the time, characters develop opposing feelings I really admire her for that. I also really loved Quinn's character
at the beginning.
He is such a sweet and caring guy. He's so sarcastic and funny. I loved Jinx and Quinn's interactions. They are such a cute couple and I can't wait to see what happens between them in Refuse.
There was one character in the book that I have a love-hate relationship with. Bruce. He was such a rude guy. He didn't really care about other people's feelings and he would pursue Jinx even though she was clearly not interested and would make sexist comments constantly. He had one attribute that I liked, and that was his dedication to his job. He wanted to be the best he could be and worked hard.
There were quite a few twists in the book that I didn't see coming, but there were also a few that were kind of obvious, but I think they were supposed to be. I really enjoyed the foreshadowing in the book. Super mysterious.
There were only a few issues that I had with this book, and they are mainly why this book got 4 stars instead of 5 stars. For one, there was a relationship in this book, but it developed really really quickly and it felt like insta-love or at least insta-attraction. I felt like Quinn cold have stopped the drama that Jinx dealt with when it came to Bruce, but he never really did anything about it. I was kind of aggravated about that. I mean, Jinx is a totally independent girl and can take care of herself, but she wasn't dealing with it well either... Another thing was Quinn's attitude at the end. He was making me really rage-y and I started to not like him at the end. He was such a sweet guy at the beginning and then...ugh.
Since we're talking about the end of the book, let's talk about the end too. I didn't like the end like I thought I would. I thought it was really fast and everything happened at once. It was supposed to be really intense, but because there was so much happening it was kind of anti-climactic for me. I may have to go back and reread it.
I can't wait to read the sequel. I definitely plan on reading more of Joanne's books in the future. She is such a fantastic writer.
My Reviews of Books Mentioned:
Other Dystopian Books You'd Love:
I hope you enjoyed this review and I've helped you realize that you need to read this book!
Happy reading, everyone!
Olivia