Hey guys!
This past week I've participated in Whittney's Winter Cram-a-thon and Hailey's Bookmas event. Let me say...I totally failed.
I've been so busy this past week, and I barely got anyting read. I set up my huge TBR with like 10 books on it, and I only managed to read two books
for the CRAMATHON, and but I've managed to read 4 books. I'm pretty proud that I have read that amount, but I think if I hadn't been so busy
I would have completed at least half of my TBR. I think the problem was that I started with my 800 page hefty books when I was feeling slumpy. Hopefully next year I will be smart
and read my short books first. :)
I managed to read the whole first bind up in the Lux series by Jennifer L. Armentrout. The bind up includes the first two books in the series, Obsidian and Onyx. I was pretty much done
with Obsidian when I had started my RAMATHON reading. I finished Onyx on the last day of the CRAMATHON, and the only reason I can think up to explain my lack of reading would have to be...
Yah know, I don't know. I was probably distracted by Netflix and being lazy, I guess. I really loved Obsidian. Obsidian was exactly what I needed at the moment. I love Jennifer's characters, Daemon and Katy.
There sarcastic banter cracked me up, and I think their perfect for each other. Onyx, for some reason, wasn't as good the second time. I think I was becoming a little bit slumpy, and tired of it.
I
'm currently reading the second bind up in the Lux series, which has the third and fourth books in Jennifer's series. I kind of feel slump-y still, but I'm powering through the series because
I have all of the books in the series on my shelf. I'm about to start the fourth book in the series, and I look forward to finishing the series.
From the 12th of December until the 24th I took apart in Hailey's Bookmas read-a-thon. During those 12 days I read 4 books, and I'm pretty proud of that. As I had said before, I've been really lazy and really busy lately with Christmas festivities and spending time with family, and planning stuff for this blog.
The first book that I read during the 12 days before Christmas was Sandry's Book by Tamora Pierce. Sandry's Book is the first installment of the Circle of Magic quartet. This book follows Sandry, Briar, Daja, and Tris as they meet and figure out their-selves and their magic. This book was really good! I really love Tamora Pierce's work, and the worlds that she creates in her books are so beautifully written and so wonderfully made. I can't wait to read the rest of the books in the quartet. I'm totally in love with the whole concept of it.
My Rating: 4.25 stars
Favorite Character: Briar (Roach)
Review coming on the 29th of December!
The next two books that I read during the 12 days of Bookmas were the first 2 books in the Lux series by Jennifer L. Armentrout. Obsidian and Onyx were rereads from December of 2014. I really really enjoyed Obsidian the second time 'round, but I found that I didn't enjoy Onyx as much as I had enjoyed it the first time. Maybe I was feeling slump-y I'm not sure. I just got a bit bored with it.
My Rating of Obsidian: 5 stars
My Rating of Onyx: 4.25
Favorite Character: Daemon
My Ship: Daemon x Katy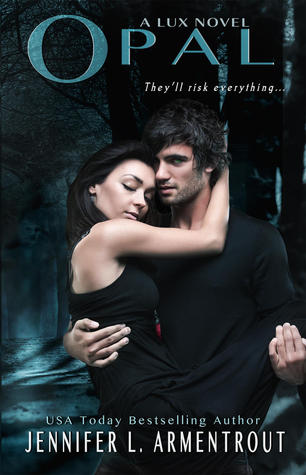 The fourth and last book that I read during the 12 Days of Bookmas was the third book in the Lux series, Opal. Jennifer L. Armentrout is such a great writer, but while reading this I got so annoyed and bored with it. I think I lost interest and I wasn't in the mood for science-fiction/paranormal romance.
My Rating: 4.25
Favorite Character: Daemon
My Ship(s): Daemon x Katy
Dee x Adam
Dawson x Bethany
I'm actually going to take a break from this series, and maybe read a couple of the books that I received for Christmas, and get back into the mood for The Lux series. I really want to love these books, but I cannot force myself to read them when I'm not in the mood.
During the next few days and during the first couple weeks of January, I plan on reading quite a few books, so keep an eye out on the Instagram page to see those books!
I kind of want to read:
A Thousand Nights by EK Johnson

Alanna: The First Adventure

Between the Lines by Jodi Picoult & Samantha Van Leer

The Queen of the Tearling by Erika Johanson

Origin by Jennifer L. Armentrout

Opposition by Jennifer L. Armentrout
and I want to read some of the fairy tales from my copy of The Complete Works of the Brothers Grimm.
Did you participate in the Cram-A-Thon or Bookmas read-a-thon? What books did you read? What do you want to read during the next couple weeks?
Thank you for reading & happy holidays!
Enjoy!
Happy reading!
Olivia
~livthebooknerd~