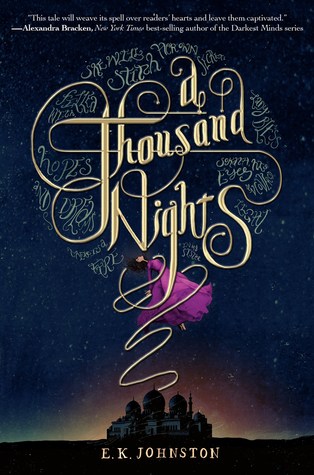 Page Count:
328
Published on

: October 6, 2015
Published by: Disney Hyperion
Genre(s): YA, Fantasy, Fairytale Retelling, Romance
Source: Print: Paperback
Goodreads synopsis:
Lo-Melkhiin killed three hundred girls before he came to her village, looking for a wife. When she sees the dust cloud on the horizon, she knows he has arrived. She knows he will want the loveliest girl: her sister. She vows she will not let her be next.

And so she is taken in her sister's place, and she believes death will soon follow. Lo-Melkhiin's court is a dangerous palace filled with pretty things: intricate statues with wretched eyes, exquisite threads to weave the most beautiful garments. She sees everything as if for the last time. But the first sun rises and sets, and she is not dead. Night after night, Lo-Melkhiin comes to her and listens to the stories she tells, and day after day she is awoken by the sunrise. Exploring the palace, she begins to unlock years of fear that have tormented and silenced a kingdom. Lo-Melkhiin was not always a cruel ruler. Something went wrong.

Far away, in their village, her sister is mourning. Through her pain, she calls upon the desert winds, conjuring a subtle unseen magic, and something besides death stirs the air.

Back at the palace, the words she speaks to Lo-Melkhiin every night are given a strange life of their own. Little things, at first: a dress from home, a vision of her sister. With each tale she spins, her power grows. Soon she dreams of bigger, more terrible magic: power enough to save a king, if she can put an end to the rule of a monster.
My mom & her boyfriend bought me this beautiful book for Christmas, and I was so excited to get it. I've been really intrigued and interested to read it ever since I had heard about it on some of my favorite BookTuber's channels. The book was described as beautifully written and really interesting. It was also compared to the latest fairytale retellings that had been published in 2015, such as The Wrath & the Dawn, A Court Of Thorns & Roses, and Legacy of Kings, two of which I have read and loved. I was really excited to read this book, not just because it's a retelling, but it's a retelling of A Thousand & One Nights just like The Wrath & the Dawn. Anyway, here's my review!
There are so many things that I love about this book: the characters, the magic, the setting, the plot, the language, and how original it is. The original tale describes a king who marries women, but within a few days ends up killing her; and a young girl who sacrifices herself and ends up marrying the king, but saves herself by creating fantastical tales. A Thousand Nights is the same in those respects, but it's actually really really different compared to the original. The magic aspects to this story are really interesting, and nothing like I've read before. The characters were very diverse and very beautifully written, the one weird thing about this book was that none of the characters had actual names. That one thing kind of caused me to feel as if I couldn't connect with the characters as much as I had wished to. I also wished that there was one other perspective that I could have read in the book. I wish there was more of
Lo-Melkhiin's perspective...people who have read the book will understand. One of the main reasons that I loved this book was because of the main themes. The "love" and "family" themes were so very important in this book, and every action and decision that the heroine makes is based of what she thinks will keep not only herself safe, but her family in the desert as well.
This book really does feel like a story that you would hear around a camp fire, or reading a huge book of fairy tales. This story was just so beautiful, so diverse, so original, and so wonderfully written. I hope that E.K. Johnston writes more fantasy and/or more fairy tale retellings. She has fantastic writing style, and I really cannot wait to see what she releases next into the YA world.
Favorite Character: The nameless heroine
My Ship: Heroine x Lo-Melkhiin
If You Like ___#___, Then You Will Love A Thousand Nights!
I hope you enjoyed this review, and I hope you guys check out this book! It's so amazing!