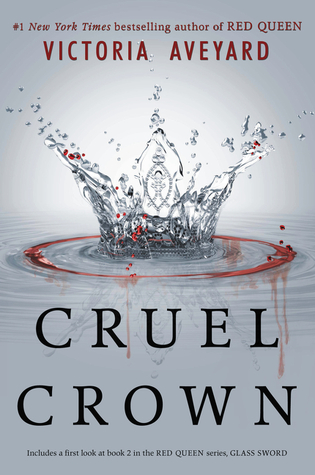 Page Count:
208
Published on

: January 5, 2016
Published by: Harper Teen
Genre(s): YA, Fantasy, Science Fiction, Dystopia, Short Stories, Novellas
Source: Print: Paperback
Day Started: January 12
Day Finished: January 16
Goodreads synopsis:
Two women on either side of the Silver-Red divide tell the stories no one else knows.
Discover the truth of Norta's bloody past in these two revealing prequels to #1 New York Times bestseller Red Queen.
Also includes an exclusive excerpt of the hotly anticipated second book in the Red Queen series! Glass Sword transports readers to the world of Silver tyranny, a Red dawn rising, and one girl's resolve to break down the system that will hold her back no longer.
Queen Song
Queen Coriane, first wife of King Tiberias, keeps a secret diary—how else can she ensure that no one at the palace will use her thoughts against her? Coriane recounts her heady courtship with the crown prince, the birth of a new prince, Cal, and the potentially deadly challenges that lay ahead for her in royal life.
Steel Scars
Diana Farley was raised to be strong, but being tasked with planting the seeds of rebellion in Norta is a tougher job than expected. As she travels the land recruiting black market traders, smugglers, and extremists for her first attempt at an attack on the capital, she stumbles upon a connection that may prove to be the key to the entire operation—Mare Barrow.
Hey guys!
My friend Julia bought me this amazing book for a late Christmas present after I told her about how our local Books-A-Million had put out copies of Cruel Crown. When I saw them, I didn't get a copy automatically, because I had other bookish wants at the moment. Julia, bless her, bought me my own copy of this lovely book, and I really liked it.
The biggest problem that I had with this novella bind up, was that it didn't add much to the Red Queen story. Now, I liked Red Queen when I read it in May of 2015, and I was really hoping to get some more information to add to my "Red Queen" memory bank. I had my qualms about this book, because there were some bits of the book that I felt weren't very original, but I loved the characters, the plot, the world, and the magic/science fiction aspect to it.
I felt like Queen Song was probably my favorite of the two novellas in this bind-up. Queen Coriane was a really intriguing character, but towards the end, I felt like she totally gave up on her passions, her dreams, and her basic personality. I also felt like the characters should have been fleshed out a tiny bit more. I mean, I know it's a novella, but I feel like the characters should have been better, since it is a novella. I also didn't like that the story kept skipping parts of Coraine's life. I wish that I could known Coraine more. She was such a cool character.
My Rating: 3 stars
Steel Cars...I didn't really enjoy it... I was actually kind of confused about who Farley was just because it's been so long since I read Red Queen. I thought the characters were interesting, and the plot was cool. I felt like Farley was really one dimensional, but I really hope she makes up for it in Glass Sword. I think I'm going reread Red Queen before I read Glass Sword.
My Rating: 3 stars
Overall, this book added to the world building and explained the history of the world a bit. I really hope there's more character growth, more explanations of the world building, and some more progress with the plot. I cannot wait for Glass Sword! 2 weeks! ASDFGHJKL!!!
I hope you enjoyed this review! Happy reading and happy Tuesday!
Olivia
~livthebooknerd~
Twitter
//
Instagram
//
Tumblr
//
Goodreads
//
Bloglovin