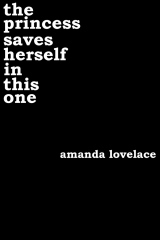 Page Count: 156
Published on: April 23, 2016
Published by: Createspace
Genre(s): Poetry, Feminism, Nonfiction, Anthology
Source: Paperback
Age Rating: YA
My Rating: 4 stars
"Ah, life- the thing that happens to us while we're off somewhere else blowing on dandelions & wishing ourselves into the pages of our favorite fairy tales."

A poetry collection divided into four different parts: the princess, the damsel, the queen, & you. The princess, the damsel, & the queen piece together the life of the author in three stages, while you serves as a note to the reader & all of humankind. Explores life & all of its love, loss, grief, healing, empowerment, & inspirations.
~~~
I've always been a fan of poetry, but this poetry anthology/collection really blew me away. I really enjoyed Amanda Lovelace's perspective and really appreciated the personalization and raw emotion that was put into this book. The amount of creativity, depth, and love that went into these poems is so evident and her desire to use her heartbreak and experiences to help those who read her work is inspiring and beautiful. I was really wary to actually read this when it first came out because of the disappointment that I experienced when reading Milk and Honey by Rupi Kaur.
Within the first few pages of this book I was blown away by her experiences. The poems were gorgeous and her message was so encouraging. I felt really empowered by these poems and I think that this book would be very important to those who share similar stories to Amanda. I know for a fact that this book, and Amanda's other work, has inspired my friends and positively influenced them. Though I cannot directly relate to all that she wrote on, I know that this book has the capability to empower and help those who do share her experiences.
Other Verse Novels That I've Reviewed: