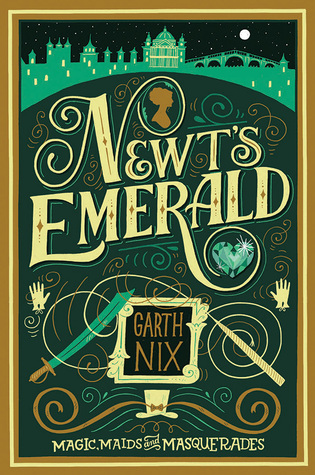 Page Count:
304
Published on
:
October 13, 2015
Published by: Katherine Tegen Books
Genre(s): YA, Fantasy, Romance, Historical Fiction
Source: Print: Hardback
Goodreads synopsis:
On her eighteenth birthday, Lady Truthful, nicknamed "Newt," will inherit her family's treasure: the Newington Emerald. A dazzling heart-shaped gem, the Emerald also bestows its wearer with magical powers.
When the Emerald disappears one stormy night, Newt sets off to recover it. Her plan entails dressing up as a man, mustache included, as no well-bred young lady should be seen out and about on her own. While in disguise, Newt encounters the handsome but shrewd Major Harnett, who volunteers to help find the missing Emerald under the assumption that she is a man. Once she and her unsuspecting ally are caught up in a dangerous adventure that includes an evil sorceress, Newt realizes that something else is afoot: the beating of her heart.
In
Newt's Emerald
, the bestselling author of
Sabriel
, Garth Nix, takes a waggish approach to the forever popular Regency romance and presents a charmed world where everyone has something to hide.
Hey guys!
I was given this book by my lovely grandmother for Christmas. At first I thought this book was actually called "Newt's Mermaid." I was really looking forward to a bad-ass search for a magical gem mermaid story, but the story was actually about a young lady named Lady Truthful (or Newt) who is to inherit her family's treasure, the Newington Emerald. One stormy night, the precious Emerald was stolen from the Newington Estate. Newt goes off to London in search of her family's precious jewel, and in the process dresses as a man, and meets a man named Major Harnett. Harnett volunteers to help Newt find the Emerald.
It took me a few chapters to get into this book, and it took me a while to understand the type of fantasy novel it was. This book was very entertaining, but it wasn't until the about 2/3 of the way through that I started to love it. There is very little character development, there are so many cliches throughout, and the characters weren't very likeable. I was hoping to connect more with Newt, not to mention that Newt was rarely ever called Newt. The people that she met usually called her Lady Truthful which got really redundant and kind of annoying.
Major Harnett actually reminded me of Mr. Darcy from Pride and Predjudice by Jane Austen. His over all attitude was a lot like Darcy's, but maybe a bit more inviting. The romance throughout this book was really cute, but it was executed very awkwardly. There weren't enough details throughout the book to keep it going smoothly, but the story was still enjoyable and cute. I really liked the magical aspects to this book, and I liked the glamour that the characters used, and I think it would be a really cool thing to read about. I usually only read about glamour in fairy/faerie novels, and to read about it in another type of fantasy novel.

Overall this was an adequate fantasy stand-alone, but I feel like the massive amount of hype that is around Garth Nix's books lead me to believe that it would be much better.
My Favorite Character: Major Charles Harnett
My Least Favorite Character: Newt's father