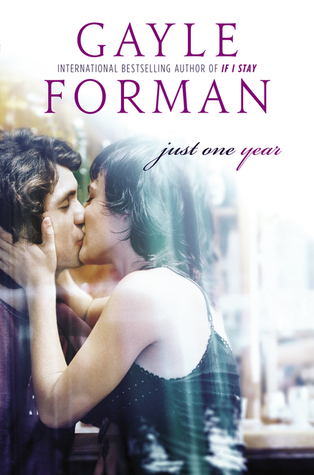 Page Count:
336
Expected Published:
October 10th 2013
Published by:
Dutton Children's
Genre(s):

Contemporary, Romance, YA, Realistic Fiction, Travel, Chick Lit


Source: Hardbook

Goodreads synopsis:
Just One Day. Just One Year. Just One Read.

Before you find out how their story ends, remember how it began....
When he opens his eyes, Willem doesn't know where in the world he is—Prague or Dubrovnik or back in Amsterdam. All he knows is that he is once again alone, and that he needs to find a girl named Lulu. They shared one magical day in Paris, and something about that day—that girl—makes Willem wonder if they aren't fated to be together. He travels all over the world, from Mexico to India, hoping to reconnect with her. But as months go by and Lulu remains elusive, Willem starts to question if the hand of fate is as strong as he'd thought. . . .
The romantic, emotional companion to
Just One Day
, this is a story of the choices we make and the accidents that happen—and the happiness we can find when the two intersect.
I checked this book out from my school's library a couple weeks ago because I had loved the first book in the duology, Just One Day. As soon as I started to read it, I was sucked in. I loved that it was the year in Willem's perspective. It was so satisfying to know what was going on in his head and understand what happened. I can't really reveal much about the story, because it would spoil both books, but I can say that they were excellent, and way better than If I Stay.
I really enjoyed Willem's character in this. I really like how developed his character is in this book, because his character was just really mysterious and kind of blah in Just One Day...and I feel like I just got to know him better as a fictional person in Just One Year. This duology is kind of unrealistic, but Gayle Forman's thoughts on love are about love are very profound throughout the book. It wasn't insta-love exactly, but it was more like discovering something new and good. I just really loved Forman's hints on her idea of love.
The reason that I gave Just One Year 4.5 stars, instead of 5 stars is very simple, yet complex. I think that Willem's character could have developed better if the book hadn't taken place during the year that he and Allyson were apart. I feel like he could have learned how to stay by being with Allyson and seeing how their relationship flourished. They have such different personalities, but together they are beautiful. One other thing, I wish that there had been a couple more chapters at the end. I really wanted to know more about how their relationship progressed. I just found the end to be a bit anti-climactic.
My Favorite Character: Willem
My Least Favorite Character: all of his ex-girlfriends/hook-ups
I hope you all enjoyed this review as much as I enjoyed to read it. I highly recommend the book, and the duology.
Happy Reading!
Olivia
~livthebooknerd~
Twitter
//
Instagram
//
Tumblr
//
Goodreads
//
YouTube
//
Bloglovin