This batch of mini-reviews has been a long time coming and I'm so excited to share my thoughts on these lovely graphic novels. They're an eclectic mix, so I hope you benefit from my thoughts and opinions.
All thoughts and opinions are my own.

Through the Woods by Emily Carroll
Page Count: 208
Published On: July 15, 2014
Published By: Margaret K. McElderberry Books
Genre(s): graphic novels, horror, fantasy, short stories,
YA, fiction, comics, sequential art
Source: paperback - borrowed from the library
Age Rating: Gory and creepy - cannot determine
My Rating: 4 stars
I don't usually enjoy horror stories or stories that are on the creepier side, but I really enjoyed this graphic novel. Emily Carroll is such a wonderful writer and the illustrations were so stunning. I have a few books with covers designed and illustrated by her and I'm so in love with her art style. I definitely recommend this graphic novel for those who love a great ghost story and thoroughly creepy illustrations to go along with them.



The Invention of Hugo Cabret by Brian Selznick
Page Count: 525
Published On: March 2007
Published By: Scholastic Press
Genre(s):
historical, historical fiction, fiction, YA, children's
Source: hardback- borrowed from the library
Age Rating: middle grade
My Rating: 2.5 stars
I've never really been a historical fiction nut, but I usually like it in graphic novels. Unfortunately, I was just bored throughout this book. I've seen the movie so many times, and I'm pretty entertained, but this book was just so drawn out to me. I really did not care about any of the characters and the plot just dragged on. Granted, the illustrations were STUNNING, but I do not think I will read this ever again. I'm glad I checked it out from the library. If you enjoy historical fiction, you'll probably like this, but it wasn't for me.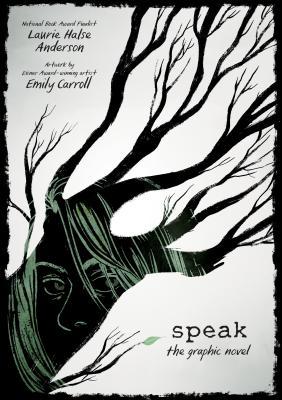 Speak: The Graphic Novel by Laurie Halse Anderson & Emily Carroll
Page Count: 374

Published On: February 6, 2018

Published By: Farrar, Straus, and Giroux (Byr)

Genre(s):

graphic novel, YA, realistic fiction, Fiction

Source: hardback- borrowed from the library

Age Rating: middle grade




My Rating: 3 stars
I've never read the original story, but I'm glad that I picked up this adaption. I absolutely adore Emily Carrol's work and Laurie Halse Anderson is such a major figure in the YA community that I'm glad I've had a sort of taste for what she has written. I'm not sure when I didn't know about the original Speak, but I've never really found the need to read it. While this graphic novel was fairly interesting, I felt like it just wasn't for me. It's an inspiring and a story worth reading, but I think I've read books that center on similar themes. I just wasn't connected to the characters.










Persepolis 1 &

2 by Marjane Satrapi


Page Count: 341

Published On: October 30, 2007

Published By: Pantheon Books

Genre(s):

graphic novel, comics, nonfiction, autobiography, memoir

Source: paperback

Age Rating: middle grade




My Rating: 3 stars




Persepolis has been so iconic and acclaimed that I had to pick up the two volumes during a Half Priced Books trip with Courtney and Mallory. During a readathon this past summer, I picked up the two volumes and read them quickly and eagerly. Marjane's story is just so compelling and interesting that I couldn't stop reading. While I really enjoyed the first volume, I felt the second lagged just a tad. The story was just so addicting and educational. I'm definitely a fan. I recommend this to everyone!










Favorite of the Bunch: Through the Woods

Least Favorite: Speak the Graphic Novel




~Liv the Book Nerd~