Hey, guys!
2018 seems to be the year of graphic novels, but I've definitely read way more poetry collections and novels than last year. I've discovered a couple of new favorite poets and I've also come to terms with disliking different forms of poetry. Lots of revelations -- all the time. Anyway, here are three poetry novels and collections that I've read so far this year. I originally had four, but I realized I had DNF'd it. Three doesn't seem like a lot, but compared to the last couple years, I've read a lot of poetry!
Algedonic by R.H. Sin
Page Count: 128
Published on: December 12, 2017
Published by: Andrews McMeel Publishing
Genres: Poetry
Where To Find It: Goodreads // Amazon
My Rating: 4.5 stars
Goodreads synopsis:
Bestselling poet r.h. Sin, author of the
Whiskey, Words, & a Shovel
series, presents a poetry collection that illuminates the transformative power of emotional pain.
Algedonic
is an aesthetic outlook on pain and pleasure. Complex emotions simplified into poetic interludes as only r.h. Sin can express. With his trademark of giving simplicity to some of the hardest of emotions, Sin reminds us all that there are often two sides to an emotional story and sometimes the pain transforms into something beautiful, something less problematic and maybe something that reignites a feeling of pleasure.
~~~
My best friend, Maddie, lent me her copy of this book at the beginning of the year. I absolutely fell in love with R.H. Sin's writing style and the overall theme in this poetry book. His poems are so beautifully written and I can't wait to read more of his work. Maddie and I actually convinced my mom to read Algedonic and she just hardcore related to this book. I'm so glad that she could find poetry to connect to and I'm so excited that I got bond over Sin's poetry with her.
~~~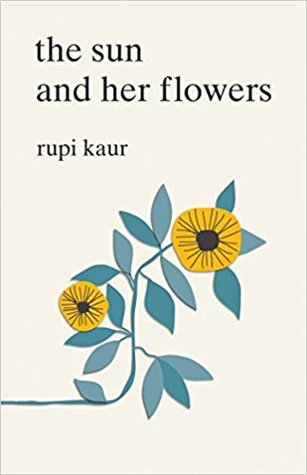 The Sun & Her Flowers by Rupi Kaur
Page Count: 256
Publish
ed on: October 3, 2017
Published by: Andrews McMeel Publishing
Genres: Poetry, Feminism, Nonfiction
Where To Find It: Goodreads // Amazon
My Rating: 2.5 stars
From Rupi Kaur, the #1 New York Times bestselling author of milk and honey, comes her long-awaited second collection of poetry. A vibrant and transcendent journey about growth and healing. Ancestry and honoring one's roots. Expatriation and rising up to find a home within yourself.

Divided into five chapters and illustrated by Kaur, the sun and her flowers is a journey of wilting, falling, rooting, rising, and blooming. A celebration of love in all its forms.

this is the recipe of life
said my mother
as she held me in her arms as i wept
think of those flowers you plant
in the garden each year
they will teach you
that people too
must wilt
fall
root
rise
in order to bloom
My friend group and I have been passing this book around all year and I honestly was really disappointed by this poetry book. I just don't think that Rupi Kaur's style vibes with me. I don't enjoy how she formats her poems and I don't particularly like how she formats the different "themes". I felt like most of her sections weren't cohesive and some of the poems just didn't fit in their section. I don't think I'll be reading more of Kaur's work. I might listen to her poetry, but i definitely do not enjoy reading it.
A Good Cry by Nikki Giovanni
Page Count: 128
Published on: October 24, 2017
Published by: William Morrow
Genres: Poetry, Nonfiction, Cultural, African American, Autobiography, Memoir
Where To Find It: Goodreads // Amazon
My Rating: 3 stars
One of America's most celebrated poets looks inward in this powerful collection, a rumination on her life and the people who have shaped her.
The poetry of Nikki Giovanni has spurred movements, turned hearts and informed generations. She's been hailed as a firebrand, a radical, a healer, and a sage; a wise and courageous voice who has spoken out on the sensitive issues, including race and gender, that touch our national consciousness.
As energetic and relevant as ever, Nikki now offers us an intimate, affecting, and illuminating look at her personal history and the mysteries of her own heart. In
A Good Cry,
she takes us into her confidence, describing the joy and peril of aging and recalling the violence that permeated her parents' marriage and her early life. She pays homage to the people who have given her life meaning and joy: her grandparents, who took her in and saved her life; the poets and thinkers who have influenced her; and the students who have surrounded her. Nikki also celebrates her good friend, Maya Angelou, and the many years of friendship, poetry, and kitchen-table laughter they shared before Angelou's death in 2014.
This was one of the first books that I read this year. My favorite professor is actually friends with Nikki Giovanni. I think that it is so freaking cool. I really enjoyed Giovanni's work, but I felt like it the right poetry for me. I found quite a few poems that I absolutely adored, but I wasn't completely wow'd by the whole book.
What is your favorite poetry novel? Comment down below!