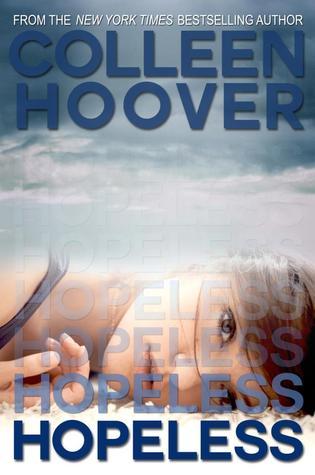 Page Count:
410
Published on:

December 19, 2012
Published by: Colleen Hoover
Genre(s): Romance, New Adult, Contemporary, YA
Source: eBook
Goodreads synopsis:
Sometimes discovering the truth can leave you more hopeless than believing the lies…
That's what seventeen-year-old Sky realizes after she meets Dean Holder. A guy with a reputation that rivals her own and an uncanny ability to invoke feelings in her she's never had before. He terrifies her and captivates her all in the span of just one encounter, and something about the way he makes her feel sparks buried memories from the past that she wishes could just stay buried.
Sky struggles to keep him at a distance knowing he's nothing but trouble, but Holder insists on learning everything about her. After finally caving to his unwavering pursuit, Sky soon finds that Holder isn't at all who he's been claiming to be. When the secrets he's been keeping are finally revealed, every single facet of Sky's life will change forever.
~~~
Hey, guys!
Once again, I have returned to Colleen Hoover's writing. If you had read my review of Maybe Someday that was published in July of 2015, you would know that I have an iffy relationship with Colleen Hoover's writing. Although it is very entertaining and angsty, by the end I had no idea what to think of it.
This book follows Sky. Sky is adopted. She is home schooled and her mom keeps her barred from technology. Sky and her best friend Six make out with a lot of guys, which gives Sky a negative reputation when her mother finally allows her to transfer to the public school in town. One day, she meets Holder. Sky, surprisingly, is extremely attracted to Holder. This baffles her because she has never felt physically attracted to any of the guys she has made out with and she has never been attracted to anyone she has met. Sky wants to feel those emotions, but for some reason, she is unable to. Holder awakens something new for Sky and they soon develop a flirty "I hate you" kind of relationship. Then a whole bunch of drama starts to unfold...It's hard to explain.
There were definitely some cliche tropes in this book, but I really liked how it was done because when the cliche moments occurred, Colleen wrote it in a way that made it so hilarious. Throughout this book, there was a nice balance between angst & drama and cheesy cute moments. The characters were really nicely developed but I didn't really like this book as much as I would have liked.
When I first started this book, I had no idea what it was about. I went into it blindly and I'm not upset about it. I loved the relationship between Sky and Six. They were so funny and I loved the scenes with them. I really wanted more about Six, but that didn't happen. I didn't think her ideals about love and lust were very healthy, but her whole personality was really funny to read.
Holder was kind of creepy in the beginning. He reminded me of Edward Cullen from Twilight, but once I got to know more about him I thought he was really charming and I really liked his character. The relationship wasn't exactly insta-lovey, but it was too convenient for me. When you find about all of the drama, their relationship was really meh to me.
When I first heard about this book I only knew that it was by the famous Colleen Hoover and that it was apparently amazing. I actually really liked Sky's character. She was really sassy and she didn't let anyone's bullshit get her down. Students from her new school would vandalize her locker with sticky notes with rude and demeaning messages on them. She would walk up, read them, laugh and then fix them so that they were actually insulting. I thought that was really hilarious. Her friend Breckin was really hilarious too. I want a Breckin. He was probably my favorite character.
There were a couple things in the book that I really didn't like. The ending, for one, was really confusing for me. I'm still not sure what I should feel about this ending. While I understand the actions of why the whole drama was started, but I still question whether the authorities should be brought into it to make it legal...I guess I'm just not sure how I would react and deal with all that happened. Another thing, Sky sure breathed heavily a lot...and she fainted maybe 5 times throughout the book! I just thought it was pretty comical and I couldn't take her seriously when she was like that.
I can't say that I like this book better than Maybe Someday. I like them about the same, but this book did keep me on the edge of my seat. I read the majority of it in one night, but I fell asleep with about 20 pages left. As soon as I woke up, I finished those 20 pages and I was floored. I just sat there and I had no idea what to think...It's one of those books.
Anyway, I hope you all enjoyed this review!
Maybe Someday Review: {click here}
Favorite Character: Breckin