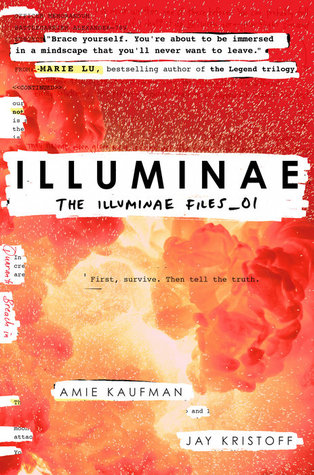 Published on:
October 20, 2015
Published by: Knopf Books for Young Readers
Genre(s):
Young Adult, Science Fiction, Dystopian
Goodreads synopsis:
This morning, Kady thought breaking up with Ezra was the hardest thing she'd have to do.
This afternoon, her planet was invaded.
The year is 2575, and two rival megacorporations are at war over a planet that's little more than an ice-covered speck at the edge of the universe. Too bad nobody thought to warn the people living on it. With enemy fire raining down on them, Kady and Ezra—who are barely even talking to each other—are forced to fight their way onto an evacuating fleet, with an enemy warship in hot pursuit.
But their problems are just getting started. A deadly plague has broken out and is mutating, with terrifying results; the fleet's AI, which should be protecting them, may actually be their enemy; and nobody in charge will say what's really going on. As Kady hacks into a tangled web of data to find the truth, it's clear only one person can help her bring it all to light: the ex-boyfriend she
swore
she'd never speak to again.
Told through a fascinating dossier of hacked documents—including emails, schematics, military files, IMs, medical reports, interviews, and more—
Illuminae
is the first book in a heart-stopping, high-octane trilogy about lives interrupted, the price of truth, and the courage of everyday heroes.
~~~
Hey, guys!
I have been meaning to read this book for months now, but I've finally read it and I'm so glad that I did. This book was so special and unique. I have read one of Amie Kaufman's books, These Broken Stars, but I really wasn't impressed with it. A lot of the reviewers that I follow absolutely loved These Broken Stars and were raving about Illuminae...Because I did not really enjoy TBS, I was afraid that that would be the case with Illuminae as well. Thank goodness it wasn't. This book was so great! This was an excellent follow-up to A Court Of Mist & Fury, and I still miss Rhys and Feyre, but...what are yuh goin' to do?
I really did go into this book blindly. I knew that it was science fiction/dystopian, but I didn't know the basic premise of it. From what I knew from the hauls that I watched or the ravings of my favorite BookTubers, I knew to go into it blindly. Thankfully, I loved it and luckily, I didn't pay full price. (Score!) I actually bought this book on Amazon for $7 or $8, so that's a bargain. The hardback is very cool to look at. I actually read some bits after I finished the book and I found out that some of my favorite bits were on the front. If you had read the text on the front, you wouldn't know what's going on. I found that pretty funny.
I really loved the characters in this book. Although this book is made up of emails, private messages, and other communication options; there weren't the traditional monologue or pages and pages of complete text. It was made up of their conversations that really showed their personalities and showed who they really were. Some characters were only featured for 10 or 15 pages and I got attached to them very quickly. If Kristoff or Kaufman killed them off or something, I was very upset. I remember one character in particular that I was really rooting for. I even had a potential ship and by the time I turned the page, half of my ship had died!
This book was skillfully done. The way it was structured and developed was quite genius.
I really loved how it was set up.
The different narration styles were really cool to read, and not hard to follow.
I felt like I
knew
the characters.
Throughout the whole book, I was on the edge of my seat. I was rooting for the main characters,
Kady
and Ezra, and I was falling in love with their personalities. When they were angry, I was angry. When their hearts broke, mine broke too.
The supporting characters were so wonderfully done and I found myself getting attached to them as well. James "Jimmy" McNulty was one of my special favorites. I was literally screaming during some of his bits of the book. Zhang was also another one of my favorite characters. He was so smart and sassy....
I was also finding myself looking forward to AIDEN's bits of the book. It's narration was very mysterious and cool to read. I heard that Jay Kristoff did those bits of the book. Great job Jay! *round of applause*
If you can't tell by now, I was very invested in this book and I can't wait to find out what happens next in Gemina. I desperately wanted to get my hands on an ARC at BEA/BookCon, but I was unable to attend due to circumstances that I could not control...haha.
There are so many questions that I have that revolve around the end of the book that I hope are resolved in Gemina. Questions about AIDEN, the Illuminae group, the narrator of the actions of the camera (that person was hilarious! I can't wait to see if there's more like that in Gemina)
After watching Christine's (polandbananasbooks) on YouTube and her BOOKTALK about this book, I've decided that when I reread this book, I will listen to the audiobook. Everyone says that the audio book is like a movie in your head, so I plan on trying to acquire the audiobook someday.
Happy reading!
~LivTheBookNerd~