Hey guys!
It's that time again! It's Wednesday! This week's #T5W is about my top 5 favorite Cinderella retellings. It's actually kind of hard to find good Cinderella retellings, and I don't think I've read as many Cinderella stories as much as I have read Beauty & the Beast stories. Whenever I read a good Cinderella story, it's usually very similar to the Disney or Perrault's version of Cinderella, but has an original twist on it. Here are my top 4 favorite Cinderella retellings! YEAH I'M GOING TO DO 4 INSTEAD OF 5!!!
1: Ella Enchanted

by Gail Carson Levine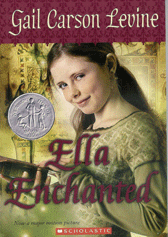 Ella Enchanted by Gail Carson Levine has been one of my favorite Cinderella since I was in middle school. To be honest I don't remember how I picked up Ella Enchanted. It might have been a random pick from my grandma, it may have been something I picked out, but I know it wasn't the movie. The movie is actually pretty good, but it doesn't follow the plot of the book at all. The book is so much better, but the movie is pretty funny and I love Anne Hathaway. This book is such a unique Cinderella story, and it only has the basic plot lines from Cinderella: the opressed young girl, evil steps, a ball, a prince..the whole shuh-bang. This is by far one of my favorite middle grade authors and I highly recommend her work.
2: Cinder

by Marissa Meyer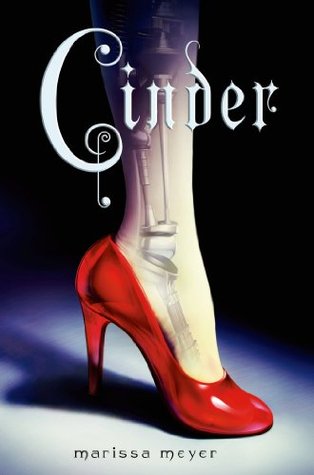 It's actually been a while since I've read Cinder by Marissa Meyer, but this book is EVERYTHING. It's actually been 10 months since I've read Cinder, and I've actually read it twice. This book is so original...it has everything a science fiction needs. It's just so perfect. It's not so much a Cinderella story, as it's a sci-fi story that's loosly based off of Cinderella.
I really regret not reviewing this book in January, but I plan on reviewing it the next time that I read it. I want all of the details fresh in my brain before I give y'all a full blown review.
My Rating: 4.5 stars
3: Bewitching

by Alex Flinn
So, it's also been forever since I've read Bewitching by Alex Flinn. I know that I loved Kendra's character. She's so hilarious, and I feel like I need to re-read this book really really soon. I honestly just remember that I really loved the book, and I loved Kendra. I gave it 5 stars on Goodreads, but I don't remember anything at all. I just love Kendra, so that's why Bewitching made the top 4.
My Goodreads Rating: 5 stars
4: Cinderella (As If You Didn't Already Know the Story) by Barbara Ensor
This is also a favorite from elementary and middle school. My sister and I received these gorgeous hardback copies of these awesome retellings of Cinderella and Thumbelina. This retelling of Cinderella is hilarious. The tone of the story is so unique because Barbara is so modern, but the story is so darn old. I really like the prince in this story, he is really dedicated to finding Cinderella. He's so convinced that she's the one for him.
I recommend this for anyone who loves fairy tales. I think any age would love this book
My Rating: 4.5 stars
I hope you guys enjoyed this TOP 4 WEDNESDAY! Let me know what topics you want me to do for the future Top 5 Wednesdays! I love to hear from you!
~livthebooknerd~