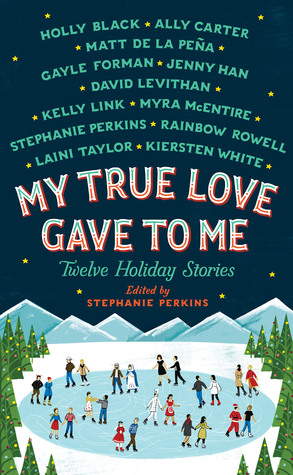 Page Count:
321
Published on: October 14, 2014
Published by: St. Martin's Press
Genre(s): Short Stories, Holiday, Fantasy, YA, Contemporary, Romance
Source: Print: Paperback
My Rating: (overall) 4.5 stars
-individual reviews below
Goodreads synopsis:
If you love holiday stories, holiday movies, made-for-TV-holiday specials, holiday episodes of your favorite sitcoms and, especially, if you love holiday anthologies, you're going to fall in love with My True Love Gave To Me: Twelve Holiday Stories by twelve bestselling young adult writers, edited by international bestselling author Stephanie Perkins. Whether you enjoy celebrating Christmas or Hanukkah, Winter Solstice or New Year's there's something here for everyone. So curl up by the fireplace and get cozy. You have twelve reasons this season to stay indoors and fall in love.
I managed to nab a copy of this book from my local Books-A-Million when it was put on the $10-&-below shelf. I got a hardback copy for $6! Not only was it a bargain, it made sense to buy it during this time! I have been putting off grabbing a copy of this book just because it's a holiday-themed anthology. I really didn't want to buy it and then not read it for months and months because it wasn't the proper time. Anyway, I really enjoyed the short stories in this anthology.
They were all so nicely done and festive. Each story had these characters that were really compelling…you wanted to know what their story was about. Some were longer than others, but they were just as great as the shorter ones. Each story was completely unique and special. I enjoyed every one of the stories. There were at least 3, however, that have stuck with me as I've finished it.
·

~
Rainbow Rowell's Midnights
·

~
Stephanie Perkin's It's A Yuletide Miracle, Charlie Brown
·

~
Laini Taylor's The Girl Who Woke the Dreamer
Special Mentions!
·

~
Holly Black's Krampuslauf
·

~
Ally Carter's Star of Bethlehem
Not only are these stories written by a few of my favorite writers, but (in my book) they deserve the "best story" label. This is just my opinion, though, so don't take my word for it. There is definitely a story for everyone in this anthology. I'm really happy with the diversity in this anthology. It wasn't just Christmas stories. They were a bit of everything! I just really liked this aspect to the book.
I actually rated all of the short stories so that I could get a feel of my full feelings for the anthology. None of them were below a 3-star rating, so that says quite a bit to me. I'm really proud of Stephanie Perkins for starting this anthology. I'm really excited to read Summer Days and Summer Nights, the summer-y themed anthology that was published earlier this year.
o
This story was the first one that I read (it was the first one, anyway) and it was just the perfect story to get me in the mood.
·
The Lady and the Fox:
4 stars
o
This was so cute, but the ending is kinda weird for me. I wasn't sure what to think
·
Angels in the Snow
: 3 stars
o
I enjoyed the whole aspect of this story. The cat really tied it all together.
·
Polaris Is Where You'll Find Me:
4 stars
o
This was really cute, but I didn't like how it ended. It was somewhat satisfying, but not what I wanted.
·
It's A Yuletide Miracle, Charlie Brown
: 5 stars
o
This was just adorable. Another masterpiece from Stephanie Perkins
·
Your Temporary Santa:
3 stars
o
This was adorable as well, but I didn't connect to it like I hoped I would. I wasn't a fan of the narration style.
o
This was creepy and absolutely loved it. I need to read more books like this short story. The perfect blend of creepy and heartwarming.
·
What The Hell Have You Done, Sophie Roth?:
3 stars
o
I'm not sure how I feel about this one either. Not a fan of the narration style and I didn't really like the characters.
·
Beer Buckets and Baby Jesus:
4 stars
o
I loved the forgiveness in this story. It was so funny and clever. I loved this one.
·
Welcome to Christmas, CA:
4 stars
o
This was pretty cute. I loved the cooking-aspect to this. It was mysterious and kind of magical. I loved the characters, and the ending was so great. I want more from Kiersten White.
·
Star of Bethlehem:
4.5 stars
o
This was the last story that I read from the anthology, and I think it was the perfect ending for this anthology (for me).
·
The Girl Who Woke the Dreamer:
5 stars
o
This was the second story that I read from the anthology, but I'm so glad that I didn't save it for last. It was so different from the other stories, but very festive at the same time. I love how different Laini Taylor's writing is. I can't wait to get back into her books. I've put them off for far too long.
I can't wait to immerse myself in more short stories like these this summer. I'm really pleased with this anthology. I've found some new authors to try out, and I'd call that a success.
Happy reading and happy holidays!
Olivia
~LivTheBookNerd~