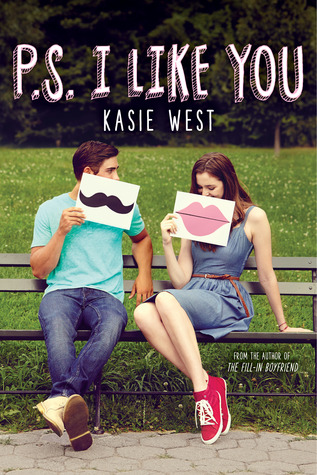 Page Count: 330
Published on: July 26, 2016
Published by: Scholastic
Genre(s): YA, Contemporary, Romance
Source: Print: Paperback
My Rating: 5 stars
Goodreads synopsis:
Signed, sealed, delivered…
While spacing out in chemistry class, Lily scribbles some of her favorite song lyrics onto her desk. The next day, she finds that
someone
has continued the lyrics on the desk and added a message to her. Intrigue!
Soon, Lily and her anonymous pen pal are exchanging full-on letters—sharing secrets, recommending bands, and opening up to each other. Lily realizes she's kind of falling for this letter writer. Only, who is he? As Lily attempts to unravel the mystery
and
juggle school, friends, crushes, and her crazy family, she discovers that matters of the heart can't always be spelled out…
Hey, guys!
Remember those Scholastic Book Fairs that you'd have at your elementary school? Well, they're still alive and well! I acquired this book while supporting my little sister's book fair I've been a fan of Kasie West's writing for a little over a year now. I read my first Kasie West book during the 2015 BookTubeAThon for one of the challenges. I've been wanting to read more of West's work for a while now, and P.S. I Like You definitely met my expectations. This book was adorably fluffy, and the writing was really addicting to read. I couldn't put this book down. I read this during a particularly stressful week, and I had finished my homework and I was procrastinating on working ahead, and I started this book and didn't put it down the whole weekend. This book was exactly what I needed that weekend.
Lily was such a refreshing character to read about in a fluffy contemporary novel. She was so snarky and passionate about what she loved. She was so loyal to her best friend, and you don't usually find that in YA fiction. Usually, the female protagonist drops her friend once she begins the relationship and puts her new guy above their friendship, but Lily was such a great friend. I loved her loyalty throughout this book. I also really loved Lily's family in this novel. It was so realistic. The little brothers were absolutely precious. I totally saw my little sisters in those boys.
The romance in this book was super predictable, but it was so well done. It wasn't insta-lovey and it wasn't completely cliche. With this type of novel, you have to go into it knowing that it will probably be cliche. I really needed a sweet and fluffy story, and PSILY delivered. I can't wait to read more of Kasie West's books.
Other Fluffy Romance Novels I Recommend:
Happy reading!
Olivia
~LivTheBookNerd~