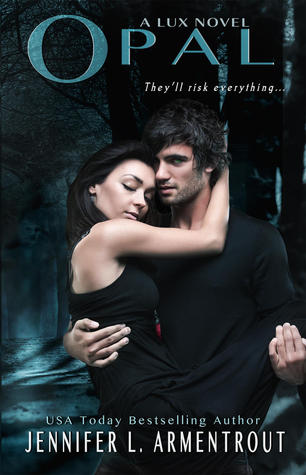 Page Count:
335
Published on

: May 8, 2012
Published by: Entangled Teen
Genre(s): YA, Paranormal, Fantasy, Science Fiction, Paranormal Romance, Supernatural, Urban Fantasy
Source: Print: Paperback
Goodreads synopsis:
After everything, I'm no longer the same Katy. I'm different... And I'm not sure what that will mean in the end. When each step we take in discovering the truth puts us in the path of the secret organization responsible for torturing and testing hybrids, the more I realize there is no end to what I'm capable of. The death of someone close still lingers, help comes from the most unlikely source, and friends will become the deadliest of enemies, but we won't turn back. Even if the outcome will shatter our worlds forever.
Together we're stronger... and they know it.
Hey guys!
Opal is the 3rd book in the Lux series by Jennifer L. Armentrout. The series follows Katy as she discovers that her next door neighbor is an alien. Daemon is a stab-worthy and sarcastic guy. He and Katy are always at each other's throats. Aaaand then Daemon saves her life and she's marked. Katy is swept up in alien drama that could affect her forever. In the fourth book in the Lux series Katy and Daemon are discovering new leads concerning the Luxen species and how the world and the enemy could affect them.
I really love Jennifer L. Armentrout's writing, but I think that I was getting a little sick of the Lux series after 3 books. I know that when I get back into the series that I will adore it, but at this time. I'm not in the mood. I love Jennifer's characters. I love how Katy and Daemon act around each other...they drive each other nuts, and I find it really fun and really real to read about their hilarious relationship. Towards the end I loved how Dee and Katy's relationship was being mended. The character development throughout this book was really nice, and I can't wait to see what happens in the next couple books. The goal that they were pursuing throughout the book didn't happen until 30 or 40 pages towards the end, which was kind of a let down. I could tell what was going to happen at the end, but I liked the way it was done. The cliffhanger was really intense, and I really liked it. Overall, this series might be kind of drawn out. Hopefully this series isn't a let down.
My Favorite Character: Daemon
My Ship: Daemon x Katy
My Least Favorite Character: Blake & the DOD
I hope you enjoyed my review!
Happy reading!
Olivia
~livthebooknerd~
Twitter
//
Instagram
//
Tumblr
//
Goodreads
//
Bloglovin