Hey, guys!
I have read 14 graphic novels in the past year and I really really liked them overall. I can't wait to read more graphic novels in 2017, but until then, here are the books that I read in 2016!
Scott Pilgrim Volumes 1-6

by Bryan Lee O'Malley
Page Count: 192
Published on:
May 1st 2011
Genre(s): YA, Graphic Novel, Manga, Humor, Romance, Fantasy, Comics
Source: Borrowed from Blaine
When Finished: February 19, 2016
I really enjoyed this series. I'm so glad that my friend Blaine lent me his copies. I really liked the art style and the plot line. The characters were really funny, and I really enjoyed them as fictional people. At first I was kind of confused about whether or not there were magical or science fiction-ish concepts, but as I kept on reading, I just rolled with it. In the first couple volumes, I found the endings to be a bit rushed, but I just went with it.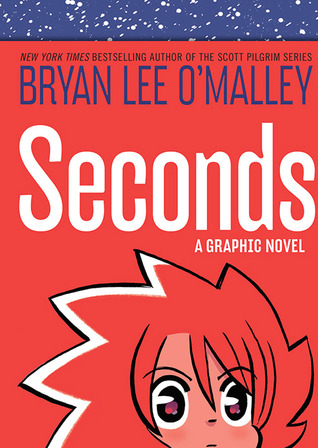 Seconds by Bryan Lee O'Malley & Nathan Fairbairn
Page Count: 323
Published on: July 15, 2014
Published by:
Ballantine Books
Genre(s):
YA, Graphic Novel, Manga, Humor, Romance, Fantasy, Comics
Source: Borrowed from Ethan
My friend Ethan lent me his copy of Seconds during the last week of my senior year, and I managed to finish it in two class periods. I wasn't expecting to read much at all that day, but I didn't have much to do during the first couple of periods because I was either done with a project or we did our final a week early to get other stuff done. I liked this graphic novel quite a bit, but it definitely wasn't as good as the Scott Pilgrim novels. I loved the art and I loved the basic plot, but I wasn't as interested in Seconds as I was with the SP books. I don't think anything can measure up to the awesomeness of Scott Pilgrim...

Page Count: 193; 189, 208; 192
Published on: March 1, 2010; July 1, 2010; December 4, 2012; March 26, 2013
Published by:
Kodansha Comics
Genre(s):
Sequential Art, Graphic Novels, Fantasy, Horror, Dystopia, Manga
During the Summer Cram-A-Thon, I read the first 7 volumes in the Attack on Titan manga series by Hajime Isayama. I had watched the first season of the anime show earlier in the year, and it has become one of my favorite anime and manga series. The art, I admit, is much better in the anime, but I do like how the art is progressing through these volumes. The story is really nicely done, and there's more information on the characters than in the anime.

Overall, I read some really great graphic novels this past year, but they weren't my absolute favorites that I've read, but I still really enjoyed them. I really enjoyed the Scott Pilgrim books and I really enjoyed Bryan Lee O'Malley's art style. I also really enjoyed reading the original story that Attack on Titan originated from. I've been a huge fan of AoT for a while, but it was really cool to see what was included in the anime and what wasn't. The whole writing style was so gorgeous, and I can't wait to read more of the volumes in the series.