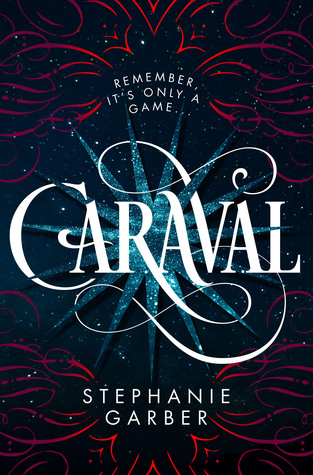 Page Count: 407
Published on: January 31, 2017
Published by: Flatiron Books
Genre(s): Fantasy, YA, Romance,
Source: Hardback - Valentines Day gift from my boyfriend
TW for domestic abuse
My Rating: 4 stars
Overall Opinion: Fantastically magical. I cannot wait to read more from Stephanie Garber!
Remember, it's only a game…
Scarlett Dragna has never left the tiny island where she and her sister, Tella, live with their powerful, and cruel, father. Now Scarlett's father has arranged a marriage for her, and Scarlett thinks her dreams of seeing Caraval—the faraway, once-a-year performance where the audience participates in the show—are over.
But this year, Scarlett's long-dreamt-of invitation finally arrives. With the help of a mysterious sailor, Tella whisks Scarlett away to the show. Only, as soon as they arrive, Tella is kidnapped by Caraval's mastermind organizer, Legend. It turns out that this season's Caraval revolves around Tella, and whoever finds her first is the winner.
Scarlett has been told that everything that happens during Caraval is only an elaborate performance. Nevertheless she becomes enmeshed in a game of love, heartbreak, and magic. And whether Caraval is real or not, Scarlett must find Tella before the five nights of the game are over or a dangerous domino effect of consequences will be set off, and her beloved sister will disappear forever.
Welcome, welcome to Caraval…beware of getting swept too far away.
~~~
It's been so long since I read this book, but it's so fresh in my mind. This book was so fantastically magical. I was pretty skeptical at first. Like the nerd that I am, I started reading reviews the night before - just to get a feel for what I was getting myself into. The reviews from the people that I followed were actually kind of negative, so I was a bit worried for a bit. Once I got into the book, however, I was sucked into the intriguing world that Garber created.
The story follows the sisters Scarlett and Donatella Dragna who dream of leaving their tiny island and their cruel father. Both dream of watching the mysterious Caraval and seeing the even more elusive mastermind behind Caraval, Legend. Their dream of attending is destroyed when their father arranges a marriage between Scarlett and an unknown man. Scarlett and Donatella suddenly receive an invitation to Caraval and are secretly whisked away to Caraval by a random sailor. Tella is soon kidnapped by Legend and Scarlett soon finds out that her sister has become a part of the game, a game which she has to win. If she doesn't, her sister will disappear forever.
This book was such a wild ride from the beginning. For the majority of the book I had absolutely no idea what was going to happen. Unlike the books I have been reading for the last few months, this book was wonderfully mysterious and I thankfully rarely ever could guess what would happen next. I really enjoyed the overall plot, but some of the aspects to the plot really lacked in my opinion, thus the 4-star rating.
The characters, although very interesting and well thought out, were still very two-dimensional when it came to their personalities. There weren't any kind of character arcs and when it came to the end, I felt like they got pretty annoying. The relationships between the characters were very annoying as well. One of the main male characters along with Scarlett's character had a really great concept between them, but it still lacked an emotional depth that I find to be really essential when creating a love interest. There were so many moments in the book where Garber could have remedied that. Hopefully those issues will be resolved in the next book. I also really didn't like the sister-relationship between Tella and Scarlett as much as I hoped I would. There were so many reviewers and readers that were blown away by their relationship, but I really didn't think their relationship was that great until the last section of the book. Even during that last section, the relationship wasn't as fleshed out or explained as I would have hoped. However, I felt like it was a really great introduction to the world, the characters, and a magical series.
On that note, the magic wasn't up to par either. However, it was a mysterious introduction to the world and every part of the book was majorly mysterious and I wasn't mad that it wasn't explained super well. It was a such an addicting read because I had no idea what would happen next
This whole book was a maze of mystery and magic and wonder. I was thoroughly impressed and entertained and I can't wait to read more of Stephanie Garber's books. I am so impressed with Garber's writing skills and her ability to create a whole new world that is shrouded in mystery. The whole story was wrapped up really nicely but still has left me craving more. The cliffhanger is real. I can't wait.
~LivTheBookNerd~
@LivTheBookNerd on Books Amino