Once again, I'm late to announce that the book club is back! We're going to be having a summer book club and if we're able to, we'll maybe continue on in the fall. Everything is up in the air at this point, but who knows what will happen! October was a bit of a flop, but I think June will hopefully work out. We'll be mainly holding discussions and sprints on the Instagram and Goodreads page, but you will probably see updates on Twitter and Facebook as well. Keep an eye out on those platforms and give us a follow! 😁
We will be reading one of my most anticipated 2017 releases, Flame in the Mist by Renee Ahdieh. I'm so excited to start this book. It sounds really fantastic. The main three things that I know about this book are that:
1) it takes place in feudal Japan
2) it's written by Renee Ahdieh, so the writing must be beautiful and wonderful
3) it has a really badass female main character
What else is there? I just needed this book in my life!
I have some reviews for Renee Ahdieh's other books, so if you'd like to see my raving reviews for her debut novel and the sequel then follow the links below!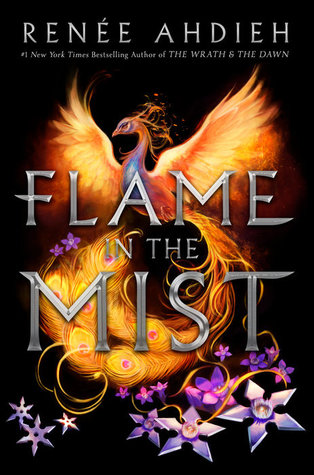 Synopsis:
The only daughter of a prominent samurai, Mariko has always known she'd been raised for one purpose and one purpose only: to marry. Never mind her cunning, which rivals that of her twin brother, Kenshin, or her skills as an accomplished alchemist. Since Mariko was not born a boy, her fate was sealed the moment she drew her first breath.

So, at just seventeen years old, Mariko is sent to the imperial palace to meet her betrothed, a man she did not choose, for the very first time. But the journey is cut short when Mariko's convoy is viciously attacked by the Black Clan, a dangerous group of bandits who've been hired to kill Mariko before she reaches the palace.

The lone survivor, Mariko narrowly escapes to the woods, where she plots her revenge. Dressed as a peasant boy, she sets out to infiltrate the Black Clan and hunt down those responsible for the target on her back. Once she's within their ranks, though, Mariko finds for the first time she's appreciated for her intellect and abilities. She even finds herself falling in love—a love that will force her to question everything she's ever known about her family, her purpose, and her deepest desires.
Goodreads Average Rating: 4.12 stars
Page Count: 393
Date Published: May 16, 2017
Publisher:

G.P. Putnam's Sons Books for Young Readers
Genres: Fantasy, Retelling, YA
The June BOTM Live Show's date is still undetermined, but we will announce the date as soon as we can on Twitter, Goodreads, and our personal twitters.
Follow us on social media!
Liv's Social Media:
Julia's Social Media:
~LivTheBookNerd~