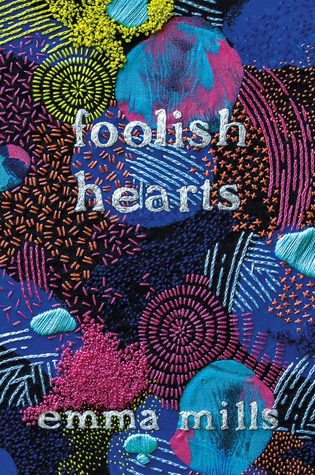 Page Count: 320
Published On: December 5, 2017
Published By: Henry Holt and Co.
Genre(s): Contemporary, YA, Romance
Source: paperback ARC provided by publisher
My Rating: 5 stars
Goodreads synopsis
A contemporary novel about a girl whose high school production of
A Midsummer Night's Dream
leads her to new friends—and maybe even new love.
The day of the last party of the summer, Claudia overhears a conversation she wasn't supposed to. Now on the wrong side of one of the meanest girls in school, Claudia doesn't know what to expect when the two are paired up to write a paper—let alone when they're both forced to try out for the school production of
A Midsummer Night's Dream.
But mandatory participation has its upsides—namely, an unexpected friendship, a boy band obsession, and a guy with the best dimpled smile Claudia's ever seen. As Claudia's world starts to expand, she finds that maybe there are some things worth sticking her neck out for.
~~~
Foolish Hearts has managed to become one of my favorite books of the year. I received a copy from the lovely Julia for Christmas 2017 and I finally read it in June. I absolutely adored every bit of this book. The characters were so well written and their stories were so compelling. There were so many great elements to this book. I really do not think I found anything particularly wrong with this book.
I absolutely adored the characters in this story. I loved her friendships and the friendships that developed throughout the story. It was so much fun to see the characters grow and change. There was a lovely bromance, a beautifully done sibling relationship, and a wonderful romantic relationship that developed.
C
laudia was such a great character. She was flawed and made some annoying/bad choices, but she was so sweet and realistic.
Gideon was such a fun character too. I absolutely adored his humor. He is such a sweetie pie. I could read about Gideon forever. The romance that surrounds Gideon is so wholesome and adorable. I couldn't get enough of the romance in this book.
The romance was, as I said, so wholesome and good. It wasn't an annoying insta-love situation. It built up really naturally and sweetly. It was a wholesome slow burn situation.
The nerdy characters and fandom culture is so nicely done. There's such a beautiful message about acceptance and friendship and it will really warm your heart. It's so beautifully fluffy and fun. I recommend it to everyone. If you love Emma Mills' books, but you haven't picked up Foolish Hearts; you should definitely pick it up!
Other Emma Mills Reviews