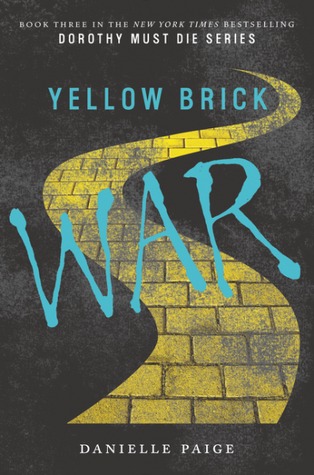 Page Count: 270
Published on: March 15, 2016
Published by: Harper Teen
Genre(s): Fantasy, YA, Adventure, Fairy Tale Retelling,
Source: Print: Hardback: Library
My Rating: 4 stars
Goodreads synopsis:
Once upon a time, there was a girl from Kansas named Dorothy.

You might know her as the Girl Who Rode the Cyclone. She ended up in Oz, where she became friends with the Tin Woodman, the Scarecrow, and the Cowardly Lion. But the temptation of magic was too much for her. She let it change her. Her friends became twisted versions of their former selves.

The magical land of Oz is now a dark and menacing place.

My name is Amy Gumm. Tornadoes must have a thing about girls from Kansas, because I got swept away on one too. I also landed in Oz, where Good is Wicked, Wicked is Good, and the Wicked Witches clued me in to my true calling:

Assassin.

The only way to stop Dorothy from destroying Oz—and Kansas—is to kill her. And I'm the only one who can do it.

But I failed. Others died for my mistakes. Because of me, the portal between the worlds has been opened and Kansas and Oz are both in danger. And if I don't find a way to close it?

Dorothy will make sure I never get to go home again.
I'm coming back at you with another fairy-tale retelling review. If you've been following me this year, you might have read my review for Dorothy Must Die and The Wicked Will Rise by Danielle Paige. I absolutely fell in love with Paige's writing and I've been anticipating Yellow Brick War for months now. I went to the library and managed to check out YBW (even though I had plenty to read at home) and I don't regret it one bit. I mean why would I?
Yellow Brick War is the third book in the Dorothy Must Die series and continues from where TWWR left off. The world of Oz is in chaos. Amy Gumm's life has changed completely and she has become an assassin in order to kill the evil and power-hungry Dorothy Gale. Killing Dorothy is the only way to save Oz and Kansas.
I really loved this addition to the series, but I really felt like TWWR and YBW could have been one book! The series is already being pushed out into a fourth book, and I honestly think it doesn't need it. The first book was absolutely fantastic and the book was alright, but the third book felt a bit drawn out. Don't get me wrong, I loved it, but it could have been a much shorter series. The ending was kind of underwhelming, but the cliffhanger left me wanting much more.
I really loved the characters in this series...they didn't disappoint. I can't wait to read the finale of the series. I can't wait to see how much more Amy Gumm develops. The cliffhanger literally killed me. Amy is such a spunky and badass character and it's amazing to see such an independent and real character in YA literature. I'm excited to see where Danielle Paige takes the plot of this novel. She's added new elements to it that I didn't see coming. I loved that Paige included details from the original books rather than just the bare bones that are commonly known from the movies. The original story is so wonderful, and everyone should read Baum's books.
My Reviews:
Other Retellings That You Would Love:
I hope you all enjoyed this review!
~LivTheBookNerd~