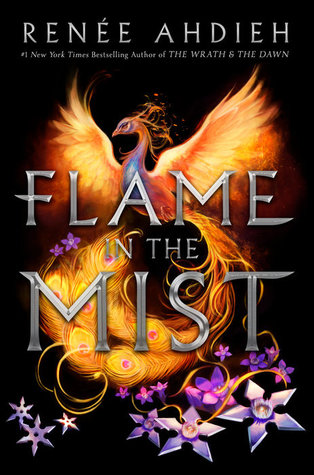 Page Count: 240
Published on: October 24, 2017
Published by:
G.P. Putnam's Sons Books for Young Readers
Genre(s): Middle
Grade, Mystery, Paranormal
Source: Paperback - via publisher
Age Rating: PG
My Rating: 3 stars
The only daughter of a prominent samurai, Mariko has always known she'd been raised for one purpose and one purpose only: to marry. Never mind her cunning, which rivals that of her twin brother, Kenshin, or her skills as an accomplished alchemist. Since Mariko was not born a boy, her fate was sealed the moment she drew her first breath.
So, at just seventeen years old, Mariko is sent to the imperial palace to meet her betrothed, a man she did not choose, for the very first time. But the journey is cut short when Mariko's convoy is viciously attacked by the Black Clan, a dangerous group of bandits who've been hired to kill Mariko before she reaches the palace.
The lone survivor, Mariko narrowly escapes to the woods, where she plots her revenge. Dressed as a peasant boy, she sets out to infiltrate the Black Clan and hunt down those responsible for the target on her back. Once she's within their ranks, though, Mariko finds for the first time she's appreciated for her intellect and abilities. She even finds herself falling in love—a love that will force her to question everything she's ever known about her family, her purpose, and her deepest desires.
This review has been a long time coming, but I'm finally getting to it! Julia and I read this for the summer book club back in June. I, unfortunately, was really disappointed in this book. Unlike Renee Ahdieh's previous books, the characters, the plot, and the whole concept of this book fell really flat for me. The characters were boring, annoying, and two-dimensional, the plot was underdeveloped, the magic, overall, lacked any kind of magical-ness. I was entertained and the writing style was interesting, but I just felt like Ahdieh just wasn't writing her best in FitM. I adored her Wrath and the Dawn duology. They were stunningly written and so intensely beautiful. I was so impressed, however, I feel like this book was written by a completely different person.
Let's talk about characters. This book didn't have any characters that I connected to. I felt like the characters that we met in this book were just "there" and didn't actually fit the story. The main character, Mariko, was just so annoying. I felt like she just whined the whole time and she would never make up her mind. She was just a mess. At first, I was really into her character. I thought she was really badass and really inspiring, but once the book started to progress, she just constantly whined and didn't progress at all. Anything that happened to her just seemed like a convenient plot device to keep the story going. The story didn't flow well at all.
The whole romance aspect of this book was just a big "nope" for me. I could not get behind the random and all-of-a-sudden kind of love. The romantic plot did not build up at all. It felt like it just was plopped into the story to make it "interesting". The little development that we got was much too rushed and I didn't really sense any real chemistry between the two characters. They went from enemy strangers to acquaintances to lovers. I just really didn't like that pacing. It was too much. The romance could have been left out and the plot would have been fine. I just think it was really unneeded.
I feel similarly about the magic system in this book. I don't know much of anything about it after reading the book. It just exploded towards the end of the book and left me confused. I really thought there would be more magic throughout the book, but I felt like it was just a mish-mash of an attempt at a history-based fantasy novel..but not done well.
I was hoping for a more history-based Japanese story, but I was just left with a massive state of confusion. The first part of the book was really fantastic and intriguing. I was really into the first part, however, the rest of the book was just a muddle of confusing ... stuff. I was just really confused throughout the book.
This book was far too busy for my taste. There was just too much happening and nothing productive. The ending was far too rushed and confusing. I'm still not sure what was happening. There were far too many instances where I was just questioning why I was reading the book. If I had not been reading it for the book club and buddy reading it with Julia, I would have probably DNF'd the book. Overall, I was just bored and confused. I only like a couple of the minor characters. I don't even remember their names.
Favorite Characters: Yumi, Yoshi, and the peasant girl Mariko's brother likes
Least Favorite Characters: Mariko, Okami, & Ranmaru
Liv's Social Media:
Julia's Social Media:
~LivTheBookNerd~
@LivTheBookNerd on Books Amino