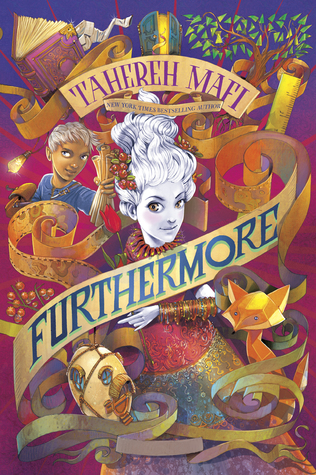 Published on:
August 30, 2016
Published by: Dutton Books For Young Readers
Genre(s):
Fantasy, Middle Grade, Fairy Tales, High Fantasy, Adventure
Goodreads synopsis:
The bestselling author of the Shatter Me series takes readers beyond the limits of their imagination in this captivating new middle-grade adventure where color is currency, adventure is inevitable, and friendship is found in the most unexpected places.
There are only three things that matter to twelve-year-old Alice Alexis Queensmeadow: Mother, who wouldn't miss her; magic and color, which seem to elude her; and Father, who always loved her. The day Father disappears from Ferenwood he takes nothing but a ruler with him. But it's been almost three years since then, and Alice is determined to find him. She loves her father even more than she loves adventure, and she's about to embark on one to find the other.
But bringing Father home is no small matter. In order to find him she'll have to travel through the mythical, dangerous land of Furthermore, where down can be up, paper is alive, and left can be both right and very, very wrong. Her only companion is a boy named Oliver whose own magical ability is based in lies and deceit--and with a liar by her side in a land where nothing is as it seems, it will take all of Alice's wits (and every limb she's got) to find Father and return home to Ferenwood in one piece. On her quest to find Father, Alice must first find herself--and hold fast to the magic of love in the face of loss.
~~~
In September the LivTheBookClub read Furthermore by Tahereh Mafi, a whimsical and magical middle-grade novel that follows young Alice Alexis Queensmeadow who goes on a quest to find her father.
To be honest, I kind of went into this book blindly. I didn't read any reviews, I didn't watch any of the promotional videos that were posted, and I definitely waited to watch Whitney from WhittyNovel's review and ramblings on YouTube. If you haven't read the book, or if you don't really care to get a hint into what this book entails then read on! If you don't want to go into this book with much of a synopsis, then do not read on! Come back when you're done reading! 5/5 stars! Read Furthermore!!!!
I have been anticipating this book for over a year and I've been so excited to get another taste of Tahereh's writing. I fell in love with Tahereh Mafi's writing when I first read Shatter Me, her first book in her Shatter Me series, in December of 2014. The Shatter Me series has a special place in my heart. It was one of the first series that I reviewed on my blog, and even after reading the books almost 2 years ago, I still remember the story line very very clearly. I just love these books so much, and when I found out that she had been working on a middle-grade fantasy stand-alone, I was squealing with excitement.
Julia will testify to this, but I bought Furthermore on the first day of the month (the day after the release day) from Target. She wanted me to have my mom or someone record me finding the book, but in the end, it wasn't that eventful. Squealing, stroking the spine, geeking out over the cover. Nothing major. I was so so so excited to get my hands on my own physical copy. I started Furthermore as soon as I finished City of Ashes by Cassandra Clare, and then I had to stop for school reading, review copies, and because I really didn't want to read it as quickly as I would have if I had just sat down and ignored my school work. Anyway, here is what I actually thought about the book.
First of all, I really loved the whole aesthetic of this book. It was so colorful and beautifully written. Tahereh's writing gave me such a lovely feeling inside and it gave me a light and whimsical vibe. When reading Shatter Me, it's very dark, ominous, and suspenseful...but when reading Furthermore, it's very suspenseful and mysterious, but it's still really light-hearted and adorable. I really liked her narration style. She would have little author interjections that always managed to make me laugh because she was basically breaking the fourth wall of writing. It reminded me of The Series of Unfortunate Events (that I wasn't impressed with, overall) and The Secret Series (LOVE!!!).
Let's talk about the magic system. Okay, Ferenwood and Furthermore are so mysterious and whimsical. If you don't have an open mind to nonsense, magic, and tomfoolery then you'll probably have a hard time wrapping your mind around the magic in this book. As a college student that is expected to have a very serious frame of mind when it comes to life, it was such a relief to have a book that was so beautiful and magical and strange. I'm not sure if I'm just rambling or not, but this book was just a huge breath of fresh air when it comes to taking a break from reading dull and dense textbooks. I think I may read Furthermore again when I have more time to sink down into the world. Reading something for fun has been making me feel guilty for not utilizing my time for school work, so I really want to experience the beauty of this book for what it is and not have to worry if I have a random math assignment due the next day.
I would love to have another book set in Ferenwood or Furthermore. I really want to explore the whimsy of Furthermore more and I would love to read more about the magical talents of the people of Ferenwood.
Okay, Alice Alexis Queensmeadow. Let's talk about Alice! I loved how sassy, brave, colorful, and real Alice is. I loved her attitude throughout this book. I saw my sister Reagan in her when she would sass Oliver and I saw my sensitive little Beetle when she would have her little emotional moments. She had such a great character arc at the end of the end of the book. She accepted herself and she embraced her amazing talent. I loved how impulsive she was. I mean, kids think they're invincible. I thought this added a very relatable aspect to the book.
Oliver...I'm not sure how I feel about him yet. He's a little butthead during most of the book, but his personality changed a lot towards the end. I think the events that occurred humbled him quite a bit, and I really liked that. It just felt a bit rushed to me...But I binge read the last chunk of the book, so that might be the reason....
The one problem that I had with the book was that it was really rushed towards the end and it kind of wrapped up too perfectly. I wanted a great ending that worked the problems out, but this ending was just really rushed and I felt like there could have been so much more added to the book.
Random Things I Loved:
~The diversity of the characters! Not only did the characters have actual colored skin (purple, pink, sunset), but there were so many diverse characters in Furthermore too!
~Characters get hurt/disabled during the book. This rarely happens, and it's so interesting to have a character like Alice to go through something like this. I kind of wish that I hadn't been fixed.
~"If a girl is afraid she doesn't have to be nice" This is so important! Need I explain?
~Alice went pee! I've never read a book where the character goes pee! Hallelujah! It's so normal to go to the bathroom. Why is it ignored in books? I mean it's redundant if they just keep going pee, but sometimes it should be mentioned.
Overall, I really loved this book. I definitely want a sequel. I need more of Tahereh's writing. She is such a beautiful human being and I love her social media updates. I not only love her writing, but I think she is a lovely person in real life too. Someday I hope to meet her, but until then I will read everything that she releases.
Books Mentioned:
Shatter Me

review {

click

}

Unravel Me

review {

click

}

Ignite Me

review {

click

}

Unite Me

review {

click

}

City of Ashes by Cassandra Clare {review coming soon!}