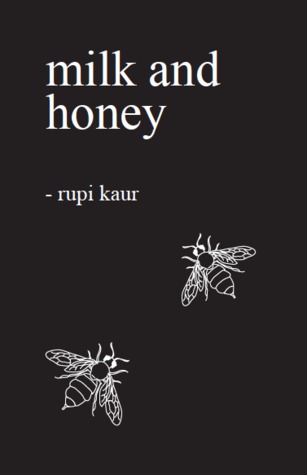 Published on:
November 4, 2014
Published by:
Createspace
Genre(s): Poetry, Nonfiction, Feminism, Contemporary, Adult, Romance, Cultural, Mental Health, Sociology, Literature
Source:
Paperback -Borrowed
Age Rating: PG-17 -mature themes and topics
Trigger Warning: Rape & Abuse
Goodreads synopis:
milk and honey
is a collection of poetry and prose about survival. It is about the experience of violence, abuse, love, loss, and femininity. It is split into four chapters, and each chapter serves a different purpose, deals with a different pain, heals a different heartache.
milk and honey
takes readers through a journey of the most bitter moments in life and finds sweetness in them because there is sweetness everywhere if you are just willing to look.
Hey, guys!
I was lent this book by one of my friends that I met at college (Thank you, Abby!) and I was really excited but kind of wary of this book of poetry. I had heard from Abby that the book was really amazing, but I had heard from Whitney from WhittyNovels on YouTube that it wasn't that great. I kind of have to agree with Whitney. Overall, the book was kind of underwhelming. I mean the hype for this poetry is unreal, but I really wasn't impressed with most of it. Some of the poems were really beautiful and profound, but some of them just weren't.
Most of the poems were quite random and didn't have any specific rhyme or structure. They weren't lyrical and were like regular sentences with weird spacing. The feminist message wasn't anything new, I had been hearing the message for years now and I've accepted the ideals for a long time. It wasn't anything new for me. It's what I've been reading online and hearing in the media for years now. It was very Tumblr-aesthetic and I think it was just really frustrating to have something so powerful to be so underwhelming. I really wish that I loved this but I didn't.
The overall look of the book is really elegant and lovely, but the insides are kind of pretencious and unimpressive. This book had the potential to be really fantastic and powerful, but it felt cliche and the poetic devices weren't used right at all. I will probably see more of Rupi Kaur's work on Tumblr, but I probably won't go out of my way to read a full novel of her poetry...
Things That Made Up For the Lame:
~Rupi Kaur's passion
~The aesthetic
~The illustrations
~The few poems that I loved
Other Verse Novels That I've Reviewed:
I would love to read more novels in verse or even a collection of poems. If you would like me to read a book in verse or even recommend a specific poem, I would love to check out your recommendations. I love poetry and I love getting your recommendations. Comment down below or contact me through my social media!