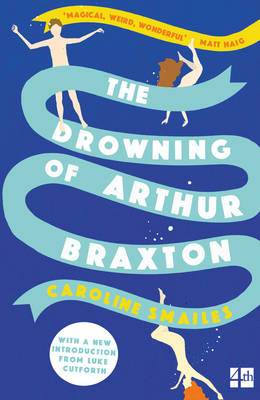 Published on:
April 1, 2013
Published by: 4th Estate
Genre(s):
YA, Contemporary, Fantasy
Source:
Paperback: Provided by publisher
Age Rating: PG-15- triggers for rape, abuse, bullying, and mature language and subject matter
Goodreads synopsis:
An urban fairy tale from the acclaimed author of 99 Reasons Why.

Arthur Braxton runs away from school.

He hides out in an abandoned building, an old Edwardian bathhouse.

He discovers a naked woman swimming in the pool.

From this point on, nothing will ever be the same.

The Drowning of Arthur Braxton is an unflinching account of the pain and trauma of adolescence and of how first love can transform the most unhappy of lives into something miraculous. It is a dark and brooding modern fairy tale from one of our most gifted writers.
Hey, guys!
I was sent this book for review from 4th Estate to read and review The Drowning of Arthur Braxton to prepare for the launch of the new cover design that was redone for the film that Luke Cutforth is filming and directing. Luke Cutforth is an amazing YouTuber that has been raving about Arthur Braxton forever. I've been really intrigued by The Drowning of Arthur Braxton for a while, and when 4th Estate contacted me about reading and reviewing it, I was so excited. The Drowning of Arthur Braxton follows a young man named by Arthur Braxton who had run away from school and hides in an abandoned building. He encounters a strange young woman and his life will never be the same.
Overall, this book was super interesting and the characters were really fleshed out and fun to read about. The chapter formats were really interesting too. The book was separated into different sections that were written in the characters perspectives, but the coolest part was that each of the perspectives was written differently (dialogue only, full narrative, conversations). Each character was really unique and really well developed. The plot and the writing style really sucked you into the story and I couldn't put the book down. Towards the last fourth of the book, though, I started getting really irritated with the main characters and I didn't enjoy the book as much as I thought I would.
I kind of avoided the big descriptive reviews of this book because I really wanted to go into it without a solid idea of what it was about. I think that was a good idea, but I should have figured out what genre the book was because once the book got into the fantastical elements of the book I was really confused about whether it was actual magic or whether it was symbolic. Once I got into the book and actually checked the genre list on Goodreads I understood what was going on. This isn't your typical fantasy book. It reads like a contemporary, the pace of a thriller, and the magical elements in it made it a really interesting read. This book was so eerie and mysterious and kept me on the edge of my seat. I went to bed pretty late when it came to staying up and reading this book...
Every character in this book had their own personality and their own intricate backstory which was such a joy to read about. This book is really character driven - which I love. I loved how Smailes wrote throughout this book. I especially loved reading from Laurel's perspective. She was definitely my favorite character to read about.
At first, I really liked Arthur, but as I continued reading from his perspective, I got really annoyed with him and I didn't like him as much. He was such a boy. He was vulgar. He was clueless. He was so real! I really appreciated how honest he was, but towards the end of the book, I started to think he was a total idiot. He never asked questions, he just accepted the strange happenings and never questioned the abnormal behavior of Delphi or Laurel. He just blindly accepted it, which was really strange. I wish he would have questioned things more. I also didn't appreciate his behavior towards Delphi at the end. He was such an ass, and I didn't like him at all at the end of the book.
Let's talk about the end of the book...even weeks later, I'm not sure how I feel about the ending of this book. It's so eerily beautiful but completely messed up. One of the main questions that I had was "What about Arthur's dad?" He was "better" but he was just picking up the pieces...how could Arthur do what he did and you know.
Can someone comment down below and start up a discussion about this book? I'd love to have a discussion about this book. I'm not sure what to think. Let's rant about this book haha.
Favorite Character: Laurel
Favorite POV: Laurel
(I just loved Laurel)
~LivTheBookNerd~