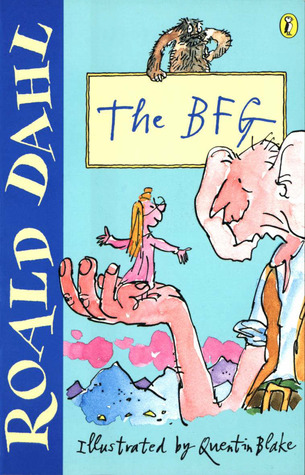 Published on:
November 1, 1982
Published by: Puffin
Genre(s):
Children's, Fiction, Classics, YA
Goodreads synopsis:
Captured by a giant! The BFG is no ordinary bone-crunching giant. He is far too nice and jumbly. It's lucky for Sophie that he is. Had she been carried off in the middle of the night by the Bloodbottler, the Fleshlumpeater, the Bonecruncher, or any of the other giants-rather than the BFG-she would have soon become breakfast.
When Sophie hears that they are flush-bunking off in England to swollomp a few nice little chiddlers, she decides she must stop them once and for all. And the BFG is going to help her
!
I read this book for the BookTube-A-Thon and I wasn't as impressed as I thought I would be. This was a really cute & funny story, but it wasn't the best children's story I've ever read. The main character, Sophie was so innocent and adorable and it was really nice to read about a little girl who was as innocent as Sophie. I can see why children love Roald Dahl's work, but I do believe that it's not written for someone my age. I am very familiar with Dahl's Charlie & the Chocolate Factory and Matilda, but I've never read the books! And to be honest, I'm not sure if I will. I've seen the movies so much that I may just pass. Comment down below if you think I should read them, though.
The hype around the movie for this book is unreal, and from what I got from the trailers, it looks like it could be really cute. So, I read the book. It didn't live up to the hype...at least for me. The hype led me to believe that his would be a phenomenal children's book and movie. And though this book was cute, it wasn't what it was hyped up to be. I know that I'm definitely going to watch the movie because it was a super cute book, but I think the movie would improve upon the story. I felt like the book was really rushed and it could have been executed better. The conflict was a minuscule part of the story and it was resolved too quickly and it was very anticlimactic. Overall, it was too easy and disappointing.
If you have a younger sibling, friend, or child that loves magical stories like this, then I highly recommend it!
Live Show date TBD! Check Twitter for the official date!
Happy reading, everyone!
~LivTheBookNerd~