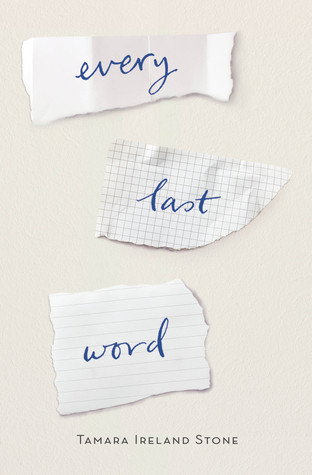 Page Count: 355 Published on: June 16, 2015 Published by: Disney-Hyperion Genre(s): Romance, YA, Contemporary, Fiction Source: Print: Hardback Age Rating: YA
Courtney's Rating: 4.5 stars
Goodreads synopsis:
If you could read my mind, you wouldn't be smiling.
Samantha McAllister looks just like the rest of the popular girls in her junior class. But hidden beneath the straightened hair and expertly applied makeup is a secret that her friends would never understand: Sam has Purely-Obsessional OCD and is consumed by a stream of dark thoughts and worries that she can't turn off.
Second-guessing every move, thought, and word makes daily life a struggle, and it doesn't help that her lifelong friends will turn toxic at the first sign of a wrong outfit, wrong lunch, or wrong crush. Yet Sam knows she'd be truly crazy to leave the protection of the most popular girls in school. So when Sam meets Caroline, she has to keep her new friend with a refreshing sense of humor and no style a secret, right up there with Sam's weekly visits to her psychiatrist.
Caroline introduces Sam to Poet's Corner, a hidden room and a tight-knit group of misfits who have been ignored by the school at large. Sam is drawn to them immediately, especially a guitar-playing guy with a talent for verse, and starts to discover a whole new side of herself. Slowly, she begins to feel more "normal" than she ever has as part of the popular crowd . . . until she finds a new reason to question her sanity and all she holds dear.
It's Courtney and it has definitely been a while since I've written a review for Liv! School and other things got in the way but thanks to Christmas break, I have had time to read. With that being said I'm going to be reviewing Every Last Word by Tamara Ireland Stone.
When my aunt bought me this book, my first thought was that it was going to be just another book that romanticized mental illness and I almost didn't want to pick it up. But in the end, I'm glad that I picked it up. The book dealt with OCD in a very respectful way and I enjoyed it. You really get a feel for what it's like to go through her mental illness. I think people who don't suffer from this mental illness firsthand can see what it's like and the effects that it can have on a person. This book was defiantly a page turner and ended in an unexpected turn of events that I never saw coming.
Our main character is Samantha McAllister. She has OCD and she is obsessed with the number three among other things. In the beginning, she tells us about her popular group of friends she calls the Eights. She keeps her OCD a secret from them because she fears their reactions. Along the way she meets a girl named Caroline and with her help she discovers a secret poetry club. This club ends up changing her life and leads her to a romantic interest.
I can say the poetry aspect of this book was my favorite part. I was in a writing club during my last year of high school, and it defiantly took me back to our club meetings. Due to personal reasons, I decided to quit writing for a while because it became too painful, but after I finished the last page of this book I picked up my notebook and started writing again.
Personally, I feel like many people who are in high school can relate to what Samantha goes through in some way. She deals with pressures from her peers and she's finding herself just like every other high schooler is.
All in all, this was a beautiful book that I recommend anyone to check it out. You don't have to be a fan of mental illness books to get something from this book. It definitely relates to a massive audience. This book had me laughing and crying and it has inspired me to keep up my writing.
Thank you guys for reading! Courtney {Instagram}