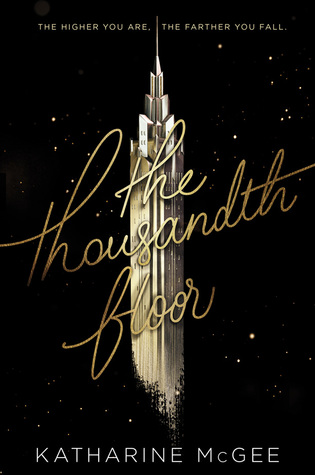 Page Count: 448
Published by: HarperCollins
Published on: August 30, 2016
Genres: YA, Dystopian, Science Fiction, Romance, Mystery, Thriller, Contemporary
Source: Hardback
Where To Find Them: Goodreads // Amazon
Rating: 3 stars
Goodreads synopsis:
WELCOME TO MANHATTAN, 2118.
A hundred years in the future, New York is a city of innovation and dreams. Everyone there wants something…and everyone has something to lose.
LEDA COLE's flawless exterior belies a secret addiction—to a drug she never should have tried and a boy she never should have touched.
ERIS DODD-RADSON's beautiful, carefree life falls to pieces when a heartbreaking betrayal tears her family apart.
RYLIN MYERS's job on one of the highest floors sweeps her into a world—and a romance—she never imagined…but will this new life cost Rylin her old one?
WATT BAKRADI is a tech genius with a secret: he knows everything about everyone. But when he's hired to spy for an upper-floor girl, he finds himself caught up in a complicated web of lies.
And living above everyone else on the thousandth floor is AVERY FULLER, the girl genetically designed to be perfect. The girl who seems to have it all—yet is tormented by the one thing she can never have.
Amid breathtaking advancement and high-tech luxury, five teenagers struggle to find their place at the top of the world. But when you're this high up, there's nowhere to go but down....
~~~

"Sometimes, love and chaos are the same thing."
~The Thousandth Floor~
I bought this book in August on a whim and I kind of regret it. This book had the potential to be really interesting and addicting, but I really don't think it was my cup of tea. This could be compared to the drama that frequents the plot of Gossip Girl, so something of that nature. I've never been a fan of shows or novels like this.
The Thousandth Floor follows a group of teens that live in the luxurious Tower. The higher the floor, the wealthier the inhabitant. Each of the characters has their own problems that they face in the novel. Their stories eventually intertwine and get very messy and complicated. Most of the drama started with stupid decisions, bad communication, or petty teenage egos. I really enjoyed that this book was told from all 5 of the main character's perspectives. It resulted in a really well rounded and interesting story. Even though I didn't enjoy the drama, I really was interested in the outcome of the story.

Rylin: I really enjoyed Rylin's character. She was such a genuine character and used the most common sense of the main characters. I really loved her drive and the love she felt for her sister. Their sister dynamic was super sweet and I really wanted more of that.

Eris: Eris was probably my favorite character. She had the best character development of the bunch. I really liked her eventual family dynamic and her romantic relationship was super cute and beneficial to her character. Not only was it cute, it was really realistic.

Leda: Leda was a nutcase. She was just stupid. I really didn't get much from her character. She was just really hooked on either her past, something paranoia-related, or something really superficial. I never really understood why she was so unhappy in the end. She was just psycho.

Watt: I liked Watt too. His character was really witty and interesting to read about. The technology surrounding his character was really fascinating and I really liked him as a character. He made really dumb decisions most of the time, but I found him to be really intelligent and fun to read about.

Avery: Avery was another odd character. She's been engineered to be the most beautiful girl in the world, but she is actually kind of selfish....Her story was kind of twisted, but understandable. I'm still not sure how I feel about it.



Overall, this character was decent but it was just stupid drama. I don't think I'd read anything like it again. It wasn't my thing. If you like shows like Gossip Girl, then you'd probably like it. Because it's not my kind of thing, then it wasn't written for me.
Comment down below if you liked this book!
Happy reading and Happy New Year!
Olivia
~LivTheBookNerd~