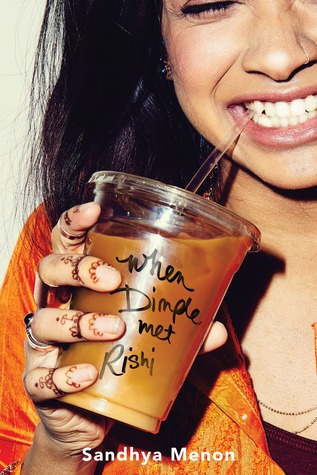 Page Count: 380
Published on: May 30, 2017
Published by: Simon Pulse
Genre(s): YA, Contemporary, Romance
Source: Hardback - personally purchased
Age Rating: YA
My Rating: 4 stars
Goodreads synopsis:
Dimple Shah has it all figured out. With graduation behind her, she's more than ready for a break from her family, from Mamma's inexplicable obsession with her finding the "Ideal Indian Husband." Ugh. Dimple knows they must respect her principles on some level, though. If they truly believed she needed a husband right now, they wouldn't have paid for her to attend a summer program for aspiring web developers…right?
Rishi Patel is a hopeless romantic. So when his parents tell him that his future wife will be attending the same summer program as him—wherein he'll have to woo her—he's totally on board. Because as silly as it sounds to most people in his life, Rishi wants to be arranged, believes in the power of tradition, stability, and being a part of something much bigger than himself.
The Shahs and Patels didn't mean to start turning the wheels on this "suggested arrangement" so early in their children's lives, but when they noticed them both gravitate toward the same summer program, they figured, Why not?
Dimple and Rishi may think they have each other figured out. But when opposites clash, love works hard to prove itself in the most unexpected ways.
I, of course, had to pick this book up! I've been meaning to acquire this book for the longest time, but there weren't many copies whenever I went to my local Books A Million. Everyone has snatched it up! I don't blame them either! This book was so entertaining and adorable! The diversity and Indian representation was so great to read and I'm so glad that this book was published. However, this book suffered from an annoying main character, so that was why I didn't give it the full 5 stars. I just really didn't enjoy her character.
Dimple Shah is basically the opposite of what her mother wants her to be. Dimple is a head strong and independent Indian young woman who desperately wants to pursue a career in web development. When she's accepted to Stanford for the fall term, Dimple can only dream that her parents would send her to Insomnia Con that summer. Insomnia Con is a huge summer program for incoming freshman who are pursuing web development. Dimple miraculously is allowed to go and then she abruptly meets a boy...Rishi Patel. The sweetest cinnamon roll I've ever read about. Apparently, Dimple and Rishi are expected to eventually get married...Dimple is not a fan. Shenanigans ensue and drama occurs. This book is so adorable. I have my issues with it, but I'm totally impressed.
The diversity and culture were so amazing! I haven't read enough diverse books in my life, so I'm so glad that I read this book. It is such a great window into a culture that I'm not as familiar with. I just adored the whole concept of this book.
I really did enjoy Dimple's character 50% of the time, but for a good chunk of the time, she got pretty annoying when it came to Rishi. There wasn't exactly insta-love, but their relationship developed a bit too quickly for my taste. I also didn't like that once she and Rishi started to actively hang out, any mention of the app contest became an after thought. She was so complex and independent in the beginning of the book. but I felt like she lacked something once the middle hit. I had really hoped for her independence and passion for web development to shine through. She was also really rude to everyone. Half the time I felt like she had an "I'm too cool for everyone" vibe which got on my nerves. She just kind of made assumptions about people and went with it. Granted, the majority of the time her assumptions were accurate, but she was just so rude! However, her sassy character was really appreciated for the majority of the time. I really loved her spunk.
Rishi was such a sweet character. What a cutie. What a precious cinnamon roll! At first, I didn't like him as much because of how complacent he was, but as the book continued he really grew on me. I really admire his passion for his traditions and culture. Of the pair, I think Rishi was my favorite. He was just a really genuine and real guy! His character development was precious to read and I just loved him so much! His conflict and worries were so real and I don't think that they are confined to his Indian heritage. I think it is a very real and relatable issue for youths today.
"This is our life. We get to decide the rules. We get to say what goes and what stays, what matters and what doesn't."
(literally one of my favorite quotes from this book)
I was so stoked for the web development aspect to this book. I was so ready to get behind Dimple's passion and love for this task! But unfortunately, I felt like the romance overshadowed her passion and actual desire to go into this field. I loved the parts where Dimple and Rishi actually planned out the app and discussed what they were planning, but then the romance just took over.
I loved how Menon tackled the subject of entitlement and privilege. There was a group of d-bags that really got on my nerves, got on Dimple's nerves, got on Rishi's nerves...okay basically they were the worst entitled buttholes ever. They were also a more diverse group of buttholes. Idiotic people come in all colors and from every background. I really appreciated that rich white heterosexual males weren't the only group called out for being dumb sometimes. Peer pressure was also a prominent theme in this book. I really appreciated that that was tackled as well.
I also really enjoyed Dimple's family dynamic. I felt like Dimple was super harsh towards her mother for a good majority of the book, but their growth was really great to see how their relationship changed. Dimple's dad was the cutest. I loved how he communicated and supported his daughter even when she was really internally ungrateful. Their family was really interesting to read about.

Celia was a really interesting character, however, I felt like her character shifted really abruptly once she got into the "cool group" and then changed abruptly again towards the end. I feel like a real friendship between Celia and Dimple lacked throughout the book. I enjoyed how she dealt with peer pressure. It's really unfortunate that girls have to feel the way Celia and Isabelle had to fit in.
Overall, I really enjoyed this book. I'm not sure if my review reflected that, but I really did enjoy this book. It was super cute and I definitely plan on reading Sandhya's future books. I need more of her writing in my life. It was such a joy to read. I definitely recommend that you read this book. It's so sweet.
Other Adorable Romance/Contemporary Books: