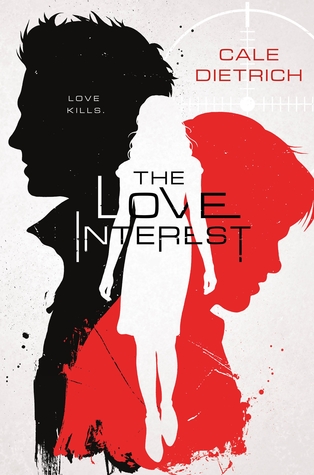 Page Count: 377
Published on: Feiwel & Friends
Published by: May 16, 2017
Genre(s): YA, LGBT+, Dystopia, Romance, Contemporary
Age Rating: YA
My Rating: 2 stars
Goodreads synopsis:
There is a secret organization that cultivates teenage spies. The agents are called Love Interests because getting close to people destined for great power means getting valuable secrets.
Caden is a Nice: the boy next door, sculpted to physical perfection. Dylan is a Bad: the brooding, dark-souled guy who is dangerously handsome. The girl they are competing for is important to the organization, and each boy will pursue her. Will she choose the Nice or the Bad?
Both Caden and Dylan are living in the outside world for the first time. They are well-trained and at the top of their games. They have to be—whoever the girl doesn't choose will die.
What the boys don't expect are feelings that are outside of their training. Feelings that could kill them both.
~~~
I received The Love Interest back in the May Book of the Month box. I was so excited about this book because it sounded really quirky and sarcastic. I thought it would be a really cool book to read this summer, however, this book really lets me down. The writing was so juvenile and overly simplistic, the characters lacked any kind of depth, the relationships were unrealistic and lacked chemistry, and the plot was a mess.
In The Love Interest, the story follows the character Caden, a "Nice". Caden has been trained by a secret organization that specializes in training people to get close to important or potentially important people in order to acquire secrets. Caden has been picked, along with the "Bad" Dylan, to compete for the affections of Juliet, a genius girl from a small town. Whomever Juliet does not choose will be incinerated by the Love Interest Corporation. What Dylan and Caden don't realize, is that they will fall for the person they least expect.
I know this is a parody or a satirical book. I get that. I was totally on board for the first 30 pages of this book. I loved it. However, this book did not have the quality that I had hoped to read. You can still have a book full of satire and have great writing. This book just was not good. It had the potential to be really hilarious and gripping, but it just was not good. I might just be taking it too seriously, but I just couldn't get past the issues I had with it.
I found that as I was reading this book, I just wasn't enjoying it. I feel like this book could have been much funnier, much smarter, and could have packed an ironic punch. However, I feel like the author was trying to include too much without having a solid idea. The premise of this book was so promising. I would have loved this book if it had been written by someone else I'm sure. I'm not just saying that either. I think Cale Dietrich will come up with something great one day, but his debut just lacked everything. I'm not sure if that was supposed to be the point, but I believe that if you wanted to use satire to make fun of common YA tropes, then you should have at least written it well. You can be cliché but still, have a great book. That's what I believe anyway. I'm sure many disagree with me.
Let's discuss what I did not enjoy about this book. I just felt like this book lacked depth. The characters were so boring, they had no personality (Either they were boring or they were annoying. There was no in-between.). The main character lacked any kind of charisma that I thought would come along with his training. He was so boring. His relationship with Juliet was so forced (kind of the point, but even when he wasn't being spoon-fed what to say, he was just so awkward and annoying). His relationship with Juliet's friends was just so -- well, it lacked a connection. He said that they felt like his friends towards the end of the book, but I didn't see it. Not only that, but any kind of interaction with Dylan/Dyl was so annoyingly cringe-y. They had no chemistry whatsoever. Not to mention Dylan's behavior towards the end was just unnecessary. I didn't think that his attitude was okay or appropriate as a plot device. That was just cruel and fake as heck.
Juliet was just so annoying. She was supposed to be one of the main characters. She was supposed to be a really smart bad-ass chick, but she was just so shallow, annoying, and she rarely acted as if the corporation had made her out to be. The two or three times that she mentioned her workshop and inventions were really out of place, and those qualities that she "showed" were only mentioned to make the plot go further at that time. It was never consistent. Juliet's friends were just as annoying. They were just there!
I feel like this book could have been written much better. The writing style was much too simplistic. The conversations between the characters were either awkward, messy, unrealistic, or annoying. The conversations did not flow and much too convenient. They always sounded very forced and I just could not imagine their conversations to ever happen in real life. Even though this was a fiction novel, I still have to believe that it could happen. I want to suspend my reality, but this book was just ridiculous.
I feel like if this book had been written in dual or multiple perspectives, the book would have been much more interesting. Caden was such a dull character and lacked depth. He was just so boring to me. I didn't like him as the main character. I think Dylan would have been cool to read about. He and Juliet would have been great characters to hear from.
There were only one or two things that I enjoyed about this book. That's probably why it didn't get one star. For one, it was almost entertaining. I did want to know what would happen. I wanted to see where Dietrich was going with his novel. There were a few twists that I didn't see coming, but when they came, I didn't like how they were written. Another thing that I enjoyed was the little depth that we got from Caden. His struggle with his identity - if he really was a "Nice" or if they had made a mistake and that, he was a "Bad" -- really shined. I really liked the inner conflict; however, I really thought it could have been expanded upon. It would have really made the novel interesting. I also really enjoyed the minuscule details that we got about Juliet's inventions. I think that Juliet had the potential to be a proper bad-ass, but instead, she was just annoying.
I'm really disappointed with this novel. I thought it would be really great, but instead, I think it kind of sucked. Someone else may enjoy this book, but it is definitely not for me.
Other Great LGBT+ &/Or Dystopian Books:
Happy reading!
Olivia
~LivTheBookNerd~
@LivTheBookNerd on Books Amino